Topdon Phoenix Plus Diagnostic Tool
---
ECU Coding Scan Tool
Bi-directional Control
Programmable Module Installation
41+ Hot Reset Services
---
---
Regular price
Save -Liquid error (snippets/product-price line 49): Computation results in '-Infinity'%
£982.99
---
---
Trusted Delivery
Print
---
Share
Description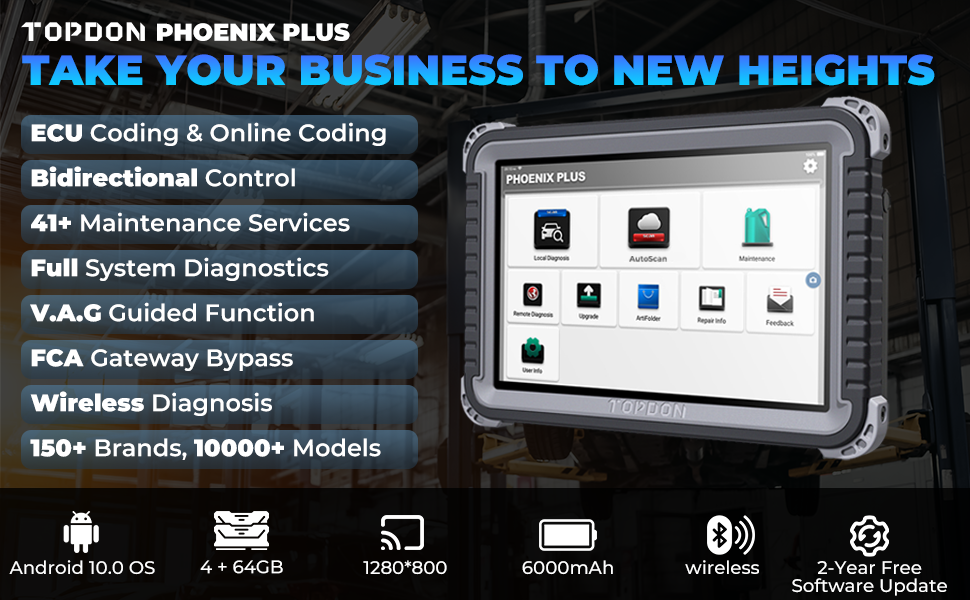 A Versatile Must-Have Diagnostic Bi-directional Scanner
A professional diagnostic scan tool is indispensable to any automotive repair business. The Phoenix Plus scan tool will expand a technician's capabilities, speed up jobs, and pay for itself in a short amount of time. :


Wide Car Coverage: 150+ car brands, 10,000+ models from the US, European and Asian car markets; still expanding.
Online ECU Coding: restore the vehicle functional status after ECU replacement (compatible with Audi, VW, Skoda, Seat, Hyundai / Kia SRS).
ECU Coding: reprogram adaptive data after making repairs or replacements; make software modifications to customize a vehicle in a smarter way; deactivate unneeded functions: deactivating the auto start-stop / changing the chimes / deactivating buzz sounds and etc. (compatible with Nissan, Infiniti, Nissan GT-R, Toyota, Lexus, Scion, Hyundai, Kia, Benz, Land Rover, Jaguar, Subaru, Ford, Mazda, Porsche and etc.).
41+ Service Functions: allow you to get the job done without outsourcing, such as Oil Resets, EPB Resets, Immobilizers, Suspension Resets, SAS Resets, and more. **See details on page.
Bi-directional/Active Test: Send commands to related ECUs and control actuators to perform corresponding actions to locate the faults accurately.
FCA Gateway Bypass with TOPDON phoenix plus: Diagnose FCA vehicles which equipped with a security gateway firewall for successful reset, bi-directional control test, calibrations, and more works on Chrysler, Dodge, Jeep, Alfa Romeo, Fiat, etc. (please reach us for details). You can buy extra adapter according to your needs and keep using the feature for lifetime free instead of paying an annual fee to other software to get access to it.
V.A.G Guided Function: skip the step of entering the security access code & channel number of VW, A.udi, Skoda, Seat vehicles for successful diagnostics.
Topology Module Mapping: intuitive color-coded topology display of all structures between vehicle modules for easy troubleshooting.
Key Programming: 1. Add, Disable & Program Keys 2. All Smart Keys Lost 3. Rewrite Smart Keys 4. Replace Smart Key ECU 5. Reset/Relearn Key 6. Replace Knob Ignition (**All above are probably not available for some Asian models. Reach us for details.)
Smart AutoVIN & AutoScan: automatically skip the manual input of vehicle's VIN code and head you towards the matched diagnostics on the system selected.
Camera VIN Scan: quick recognition of vehicle barcode with rear camera.
Smooth and stable operation with its high-quality hardware: Android 10.0 OS, Quad-Core 2.0GHz Processor, 4GB RAM & 64GB ROM, 10.1" IPS Touch Screen.
2 Years Updates at No Costs: to bring bug fixes and add new vehicles to the coverage with one-touch via Wi-Fi.
24 Languages Support: English, French, Spanish, German, Russian, Italian, Portuguese, Traditional Chinese, Japanese, Danish, Norwegian and etc.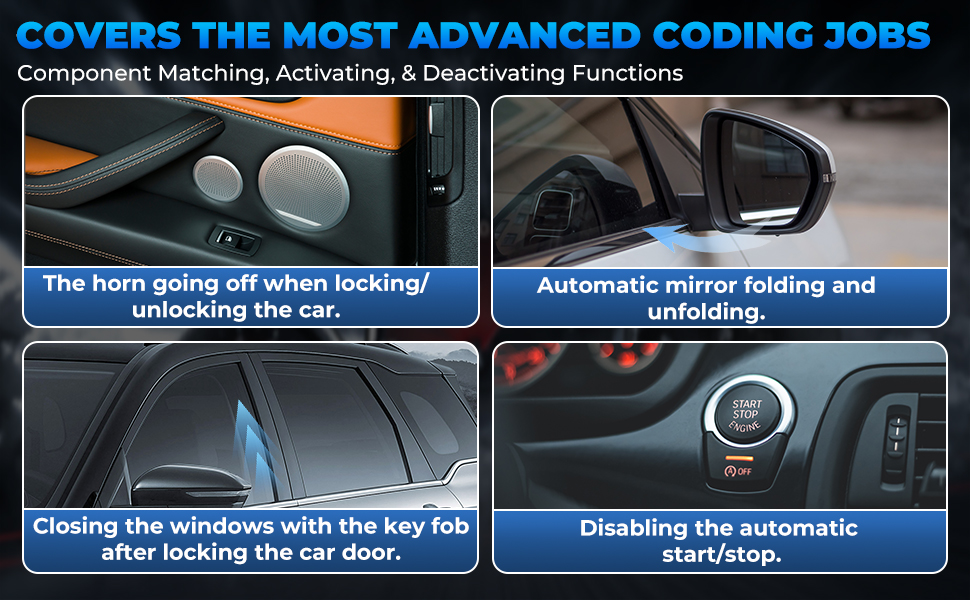 Customize Your Vehicles Easily with TOPDON Phoenix Plus Scan Tool
Restore Functional Status after Repair or Replacement
After making repairs or replacements, you can use this bi-directional diagnostic scanner to re-flash the vehicle control modules, clear the original memories stored in ECU, and write the adaptive data into specific components to get your vehicle back on the right track.

Customize and Upgrade Vehicle to achieve better performance.
You can also make manual tuning to break the limitations and restrictions of the market-specific settings of the car when it left the factory. With the help of this scan tool's ECU coding, you can disable annoying functions or activate high-end features, make software modifications to alter how it behaves originally. Here are some examples:

- Disable the automatic start/stop. So when you press down the accelerator pedal/brake pedal, your car won't automatically start/stop.

- FCA vehicle's car doors can be unlocked with just one press of the key fob.

- Make the moving pointer move, perform self check, and then return to the initial point at the time the ignition is turned on.

- The fuel gauge can show the real-time filling quantity of fuel in the tank.

- The car lock sound effect will be available at the time the car is locked.

- Use the key fob to make all car windows automatically closed with just one press of the lock button.

- When you press the brake pedal, your stoplights can be all lighted up.

- Your turn signals & rear fog lights can be alternatively flashing.

(PMI) Programmable Module Installation : TOPDON phoenix plus support PMI function, Compatible with Ford /Lincoln/ Mazda and etc. This function is generally required after the ECU module has been replaced, otherwise the ECU will not work properly.
Variant Coding: Coding ECUs to meet vehicle variants, such as left-hand drive or right-hand drive. Variant coding includes the enabling and disabling of software-driven functions.
**All above customizations are probably not available for some specific car models. Reach us for details.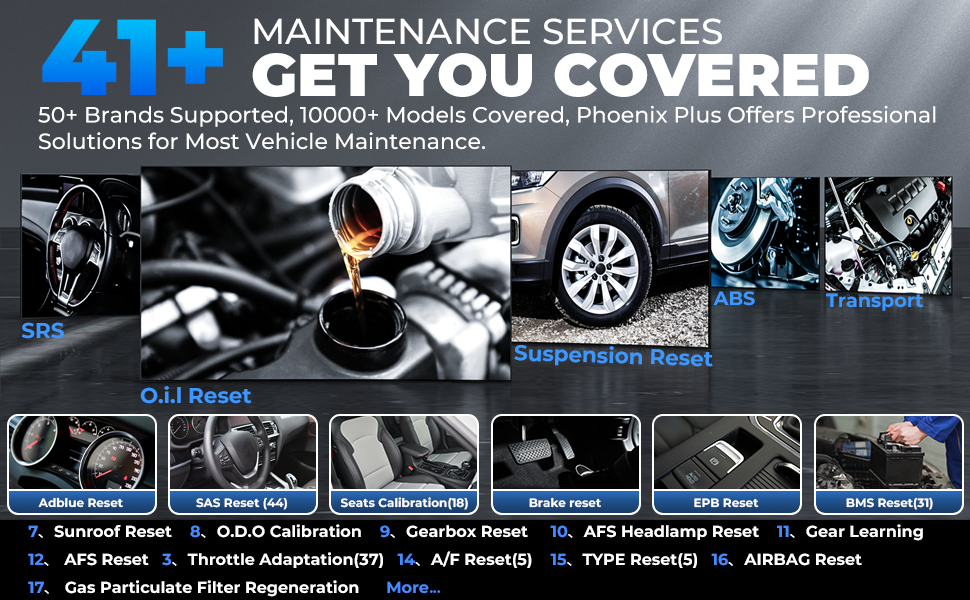 41+ Hot Service Functions, Accessible for Complete Car Maintenance
1. O.i.l Reset: reset the o.il service lamp after changing the engine o.i.l; re-calculate the optimal o.i.l life change interval for the engine o.i.l maintenance being on schedule.

2. Coding: write the new code into the car system for the correct cylinder injection quantity.

3. SAS Reset: reset the steering angle to zero to keep the car running straight.

4. Particulate Filter Regeneration (**for both diesel and gasoline vehicles): help remove the particulate matter to keep the trap stable.

5. BMS Reset: register the battery after replacement.

6. Throttle Adaptation: initialize the throttle actuators to the default state.

7. Adblue Reset: reset the AdBlue system after refilling the tank to ensure the engine is running properly and meeting standards.

8. EPB Reset: help replace and reset the brake pad.

9. Immobilizer: disable lost keys to prevent the car from being stolen, and add new keys. **Only available for cars with low-grade IMMO systems.

10. Sunroof Reset: initialize the sunroof when to be locked off, or closed.

11. Suspension Reset: adjust the vehicle body height sensor for level calibration.

12. Gearbox Reset: help complete the gearbox self-learning to improve gear shifting quality.

13. TPMS Reset: reset the tire pressure.

14. Condition Based Service(CBS) Reset: This TOPDON diagnostic scan tool allows you to reset the engine oil, spark plugs, front brakes, rear brakes, coolant, diesel particulate filter, brake fluid, micro filter, vehicle annual inspection, exhaust inspection, vehicle check and etc. It supports checking the time/mileage recommendations for fixed services and it analyzes this data and tells you when a service is next due.

And AFS Headlamp Reset, Gear Learning, A/F Reset, ABS Bleeding, Coolant Bleed, Language Change, NOx Sensor Reset, Seats Calibration, Stop/Start, Airbag Reset, Transport Mode, Type Reset, Windows Calibration, AC System Relearn/Initialization, Intelligent Cruise Control System, Engine Power Balance Monitoring, Gas Particulate Filter Regeneration, Motor Angle Calibration, High Voltage Battery Diagnostics, O.D.O Calibration and etc.; covering the majority of makes and models worldwide up to the latest year and still expanding.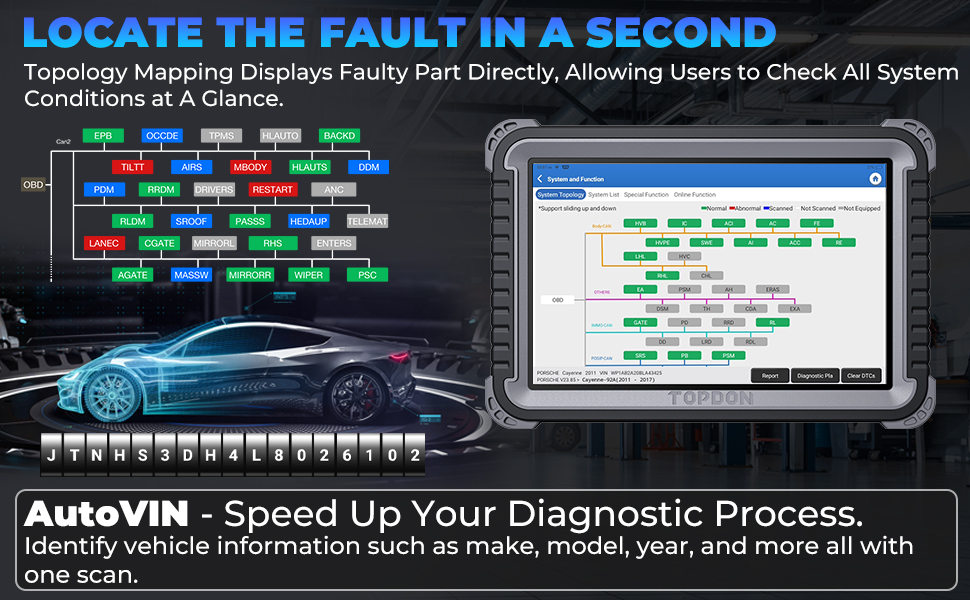 Streamline Your Diagnostic Process with One-Click
This TOPDON Phoenix Series diagnostic scan tool also carries out comprehensive all system diagnoses. It offers access to all vehicle systems at levels comparable to authorized dealers' scan tools. The range of available services expands to resets, module coding, bi-direction tests and relearns:


OE-Level Access: Gives you a window into European, Asian and American vehicles' all accessible electronic control units; shows the ECU information including unit type, version numbers, and other specifications which is convenient for you to find the matched auto part replacement.
For Maintenance: Read & clear diagnostic trouble codes (DTCs) in target systems, and locate the trouble area precisely.
For Analysis: Check freeze frame data, plot PIDs, and monitor the real-time live data stream in text, graph & analog for easy review.
System Coverage: Engines, Auto Transmission, Airbags, Immobilizer, Key Coding, ABS, Cruise Control, Instruments, Self Leveling Suspension systems, Seats, Doors, Gateway, Steering Angle, Body Systems, Electronic Power Steering & Motor Assisted, Power Steering, Tire Pressure, Rain Sensors, 4WD System ... all diagnosable ECUs.
Topology mapping of diagnostic tool Phoenix Plus visualizes all major car systems in a diagrammatic tree, and checks all system conditions with one-click, A great assistance for mechanics and professionals to have more efficient diagnostic work than ever before.
The Phoenix Plus scan tool also boasts AutoVIN function to automatically identify vehicle information such as make, model, and year of manufacture immediately. Professional diagnostics are always ready to go.
**The function list is depended on the vehicle's make, model and year. Reach us for details.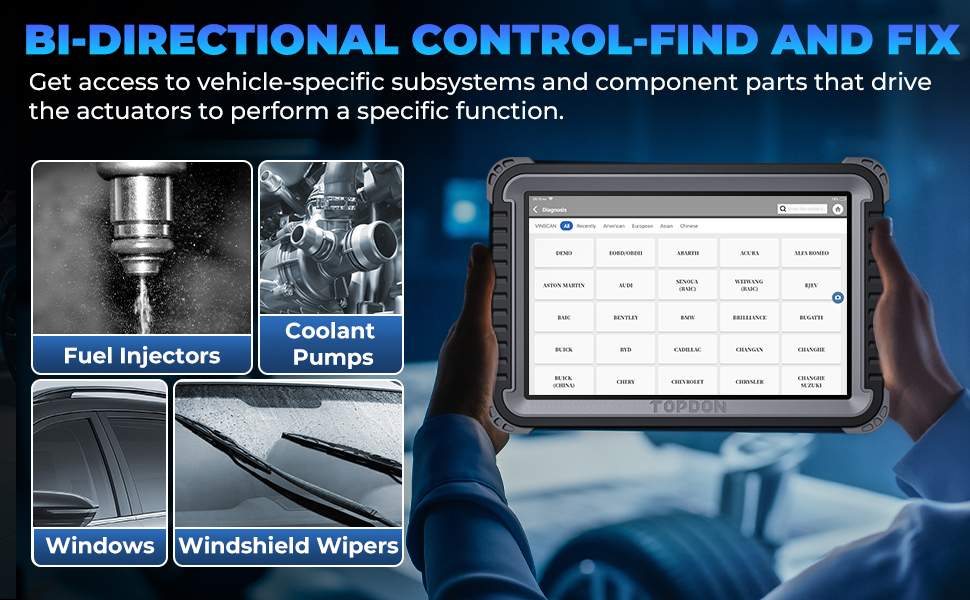 Bi-directional Control to Identify the Problems
With bi-directional capabilities, the TOPDON Phoenix Plus scanner can perform individual tests for single actuators to know if the actuator functions the way it should:
1. Turn on/off the radiator fan, lights, sound horn, and fuel pump, etc.;

2. Modulate the throttle; Open/close windows; Operate mirrors;

3. Test the door lock, device acceleration, oil pressure control, vehicle level position, inlet & outlet valve, open brakes, wheel speed sensor supply, and parking brake.

Find the component you want to test and the Phoenix Plus diagnostic scanner helps you check the integrity. For example, users can test related automotive part to check if it works properly when they cannot start the car engine.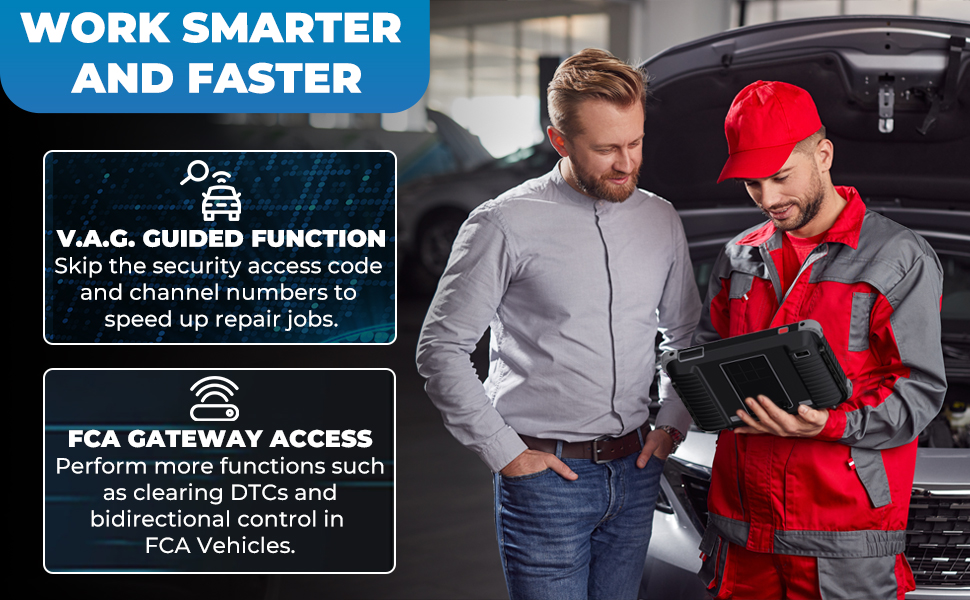 Communicate with FCA SGW with Bypass Cable
1. Starting in 2018, FCA vehicles have been equipped with a security gateway firewall, i.e. SGW Authentication System (SGM) which is developed to secure the vehicle's control systems against security threats and issues.

Yet now you can communicate with the FCA SGW Authentication System and bypass the SGM with our car scanner tool TOPDON Phoenix Plus to be able to run OE-level diagnostics and bi-directional on SGW-equipped vehicles:

Available for 2017 and later FCA vehicles including Chrysler, Dodge, Jeep, Alfa Romeo, and Fiat.
Your Phoenix Plus diagnostic scan tool needs to buy extra adapter to diagnose FCA vehicles.
The diagnostic scanner needs to have the latest version of diagnostic software.
You can buy diagnostic adapter according to your needs and keep using the feature for lifetime free instead of paying an annual fee to other software to get access to it.
2. The Phoenix plus has access to V.A.G Guided Functions with step-by-step procedure, which streamlines the repair process and promotes a quick and accurate car diagnosis. Follow the prompts for easy and convenient operation, suitable for VW, SKODA, SEAT vehicles and etc..


ArtiFolder Data Management
The Phoenix diagnostic system creates the ideal data management module: ArtiFolder. There you can keep all data files, client info, and car records well organized, as well as review test vehicle history records for first-hand troubleshooting of diagnostic bugs, faults, and errors, to help you use this scan tool more effectively.

Cover 150+ Brands, Up to 2023
You can diagnose many vehicles makes and models up to 2023 since this TOPDON phoenix plus scan tool has impressive coverage of 150+ car brands across worldwide markets. Various OBDII adapters are provided to fit more vehicle makes and models, currently up to the year 2023: BENZ, BMW, CHRYSLER, HONDA, GM, HYUNDAI, NISSAN, TOYOTA, and more.

Key Programming
Works as a automotive key programmer tool, boasting a variety of functions, including Number of Keys, PIN Reading, Key Learning, Remote Control Learning, Delete Keys, and All Keys Lost on some Asian models.
Authorization
Reviews