---
Free PC Software Upgrade
High Resolution, Accurate Measurement
Support Video Recording, Super Battery Life
---
---
Regular price
Save -Liquid error (snippets/product-price line 49): Computation results in '-Infinity'%
£285.99
---
---
Trusted Delivery
Print
---
Share
Description
High Resolution, Accurate Measurement:
TOPDON TC004 Thermal Camera has 256x192 ultra-high resolution, thermal sensitivity <40mk, temperature resolution up to ±1°F, three temperature measurement modes center point / maximum temperature / minimum temperature, fast 20Hz frame rate and temperature range -4°F to 662°F, high resolution. Accurate measurement allows you to detect potential problems early and diagnose problems reliably!

Free PC Software Upgrade:
TOPDON TC004 Infrared Camera can be connected to a Windows PC via USB for online analysis, real-time detection of object temperature changes, support for 3D imaging, point-line surface temperature measurement. Up to 16GB memory, support memory expansion, you can also stream the device in real time to a laptop or computer for offline temperature measurement, analyze the saved images, export data reports, and dig deeper into the data.

Support Video Recording, Super Battery Life:
powerful one-touch photo viewing and video recording function, so you can share the photos taken to your computer. The built-in 5000Ah rechargeable Li-ion Battery can support up to 12 hours of continuous operation, with a long life span that allows you to handle high-intensity measurement work with ease. Greatly meet the power monitoring, boiler inspection, house maintenance, circuit testing, HVAC testing and other types of use scenarios!

Multiple Functions, More professional:
TC004 Thermal Imager with high and low temperature alarm function, when the temperature is out of range, the audio alarm and warning light will remind you. Including 4 kinds of color palette, choose the ideal color scale for your work - white hot, black hot, iron red, rainbow. LED work light allows you to reach the dark and hard to reach areas, automatic shutdown function to ensure that you will not run out of power in the important work.

Sturdy and durable:
TOPDON TC004's ergonomic grip handle makes it easy to grasp, and it is designed with a tripod screw hole 1/4 adapter - convenient and fast installation and fixing, fixed point measurement, 2 meters drop resistance design. Provide 1-year warranty and lifetime technical support. The package includes: thermal imager*1, 16G memory card*1, data cable*1, protection bag*1, manual*1, 5V charger*1.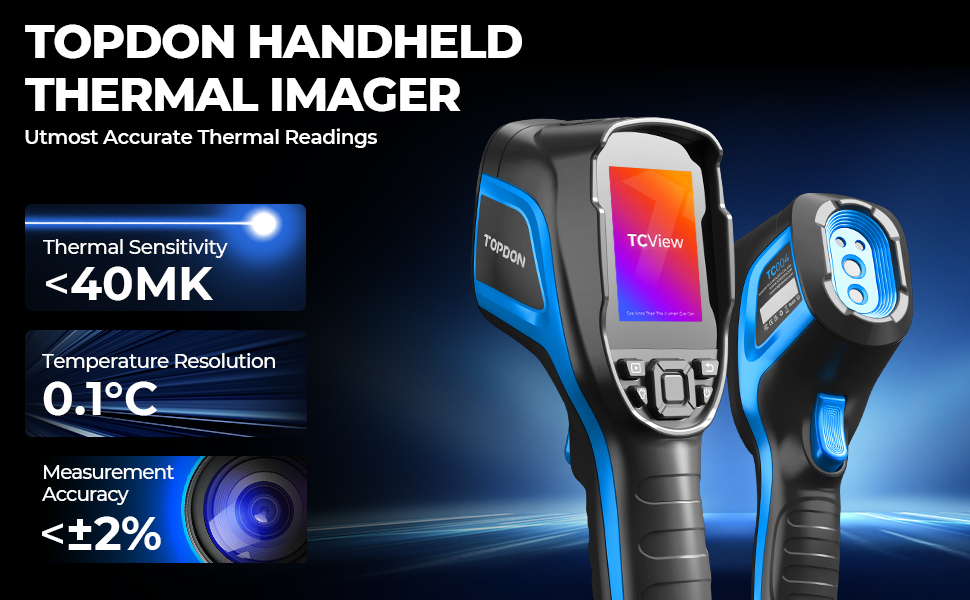 TC004 Empowering You to Make the Invisible Visible

TOPDON TC004 is a handheld thermal camera that provides a simple, professional, and efficient solution for electrical diagnosis, home maintenance, mechanical equipment maintenance, construction inspection, agriculture, forestry, and animal husbandry.

1. High Image Quality: The high-resolution 256x192 pixel infrared camera allows you to say goodbye to blurry images

2. Supports both standalone mode and PC mode: The tool is ready for analysis with the standalone and the PC modes, enabling users to project and upload images from the TC to their PC.

3. Perform temperature detection with extreme accuracy with ±1°F temperature resolution, and View detailed temperature changes with high heat sensitivity of 40mk.

4. The built-in 5000mAh rechargeable Li-ion Battery can support 12-hour runtime, Can use anytime with no need to worry about low battery.

5. Automatic Cold & Hot Spot Tracking, to observe changes more effectively within a fully colorized area.

6. Measures a wide range of temperatures, from -20°C to 350°C (-4°F to +662°F). broad enough to capture all of the temperatures in the objects or scenes you typically encounter.

7.4 Color Scale Palettes to learn more about the area being inspected and Built-in fill LED light Makes operations safer. No need for additional light sources

8.52.5°x 39.5° Degrees Field of View, to show more subjects in a single thermal image.

9.Adjustable Emissivity: TC004 has a function such as adjust the emissivity. Adjust the emissivity allows you to take more accurate measurements.

10.With IP54 water protection and a 2 meter (6.6 ft.) drop-proof design, the TC004 provides a simple, professional and efficient solution for electrical diagnosis, home maintenance, mechanical equipment maintenance, construction inspection, agriculture, forestry, and care of livestock.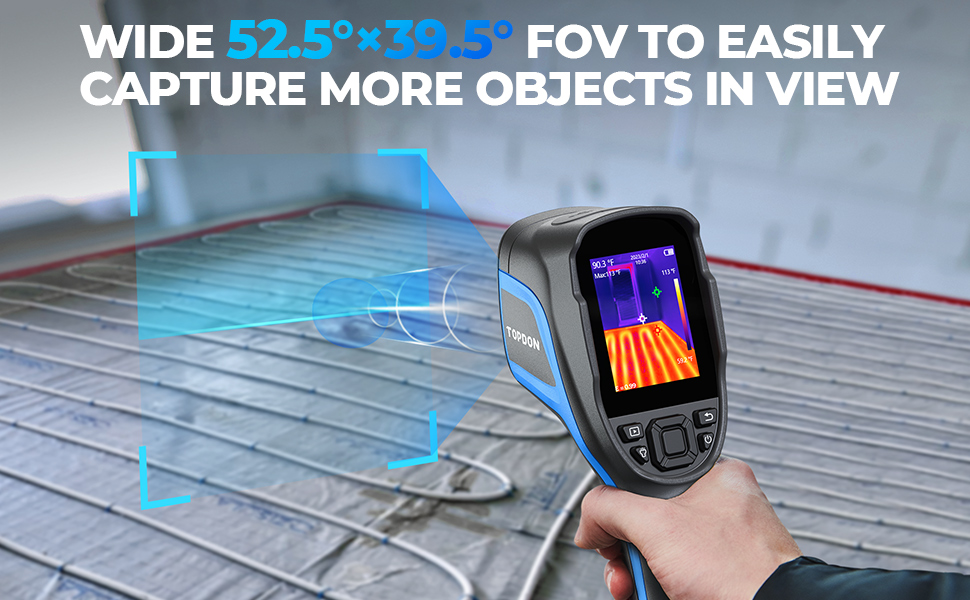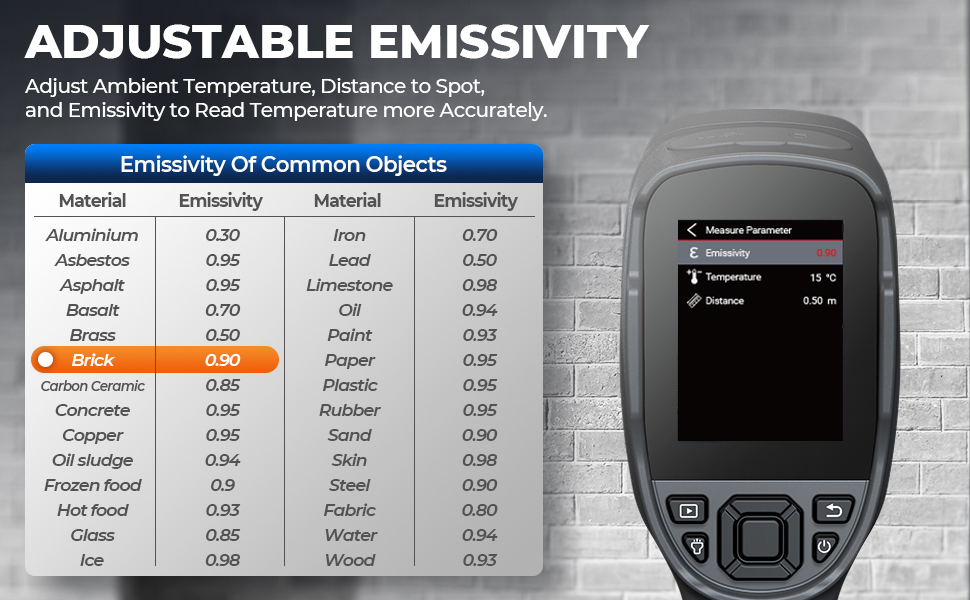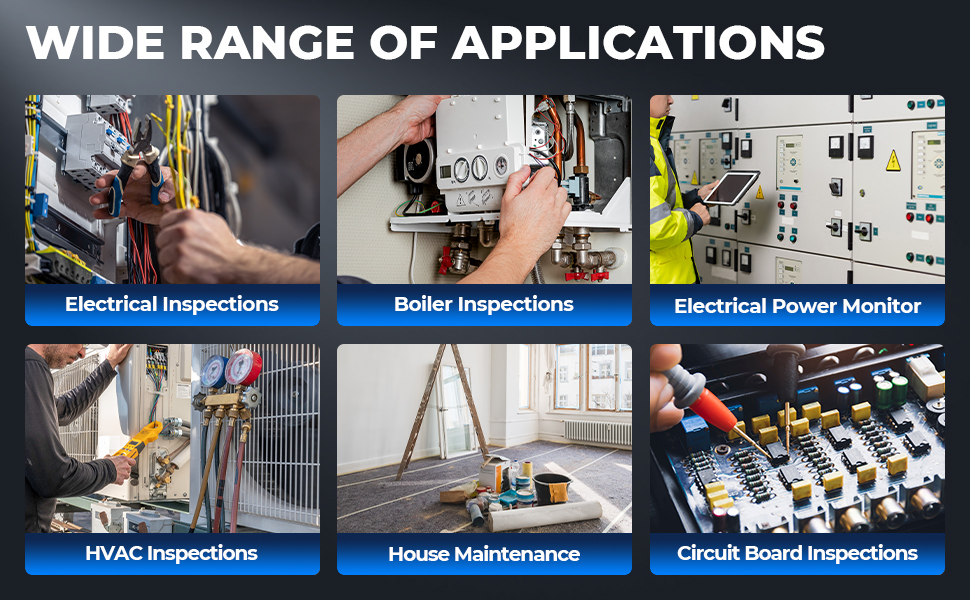 A Variety of Real-Life Applications
TODDON TC004 thermal imager is useful to eliminate blind guesswork, by discovering, diagnosing, tracking thermal images of objects, humans, buildings, and animals, etc., even in the dark, as quickly as possible with complete accuracy.

The following is a list of potential uses: Detecting Elevated Body Temperature, HVAC, Electrical Inspections / Maintenance, Automotive Inspections,Home Maintenance, Energy Auditing, Heat Leaks, and more!
13 Languages Support:
Including English, Chinese traditional, Korean, Japanese, French, Spanish, Italian, Portuguese, German, Polish, Russian, Hungarian, Turkish

Built-in Fill LED Light:
Built-in fill LED light, Makes operations safer. No need for additional light sources!

Compact and Solid Design:
2M drop proof, Allows you to be more carefree while using the device!

2.8 Inch Screen:
Easily view live images on 2.8 Inch display!

Three Measurement Modes & Auto-Detection:
The TC004 has three different measurements to detect center, hot and cold spots. The automatic detection feature allows users view temperature differences more visually.

High and Low Temperature Alarm:
The TC004 will automatically warn the user when the detected temperature is out of range!

PC Image Analysis and Instant Projection:
Professional analysis software allows users to easily save and share diagnostic data on a PC. The TC004 also supports screen projection on a PC as well.

What's in the box:
The package includes: thermal imager*1, 16G memory card*1, data cable*1, pocket*1, manual*1, 5V charger*1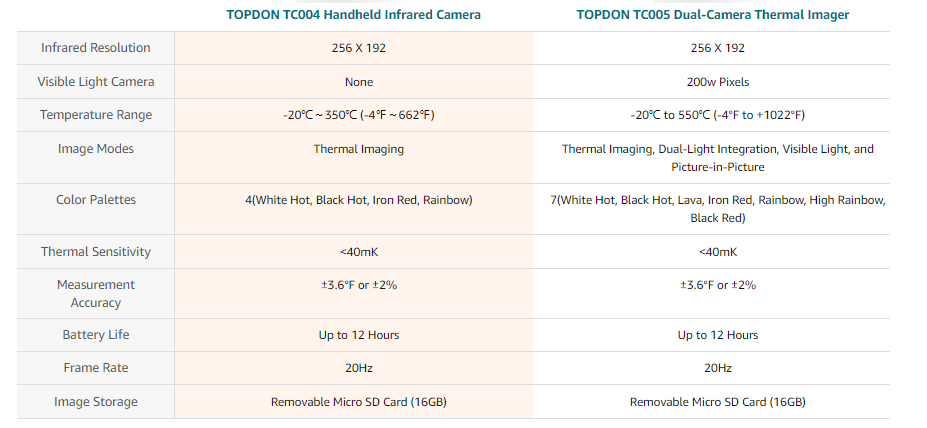 Authorization
Reviews