---
High-Quality Imaging
Hardware That Matters
Industry-First OTG Functions
Thermal Imaging Mastery
---
---
Regular price
Save -Liquid error (snippets/product-price line 49): Computation results in '-Infinity'%
£441.99
---
---
Trusted Delivery
Print
---
Share
Description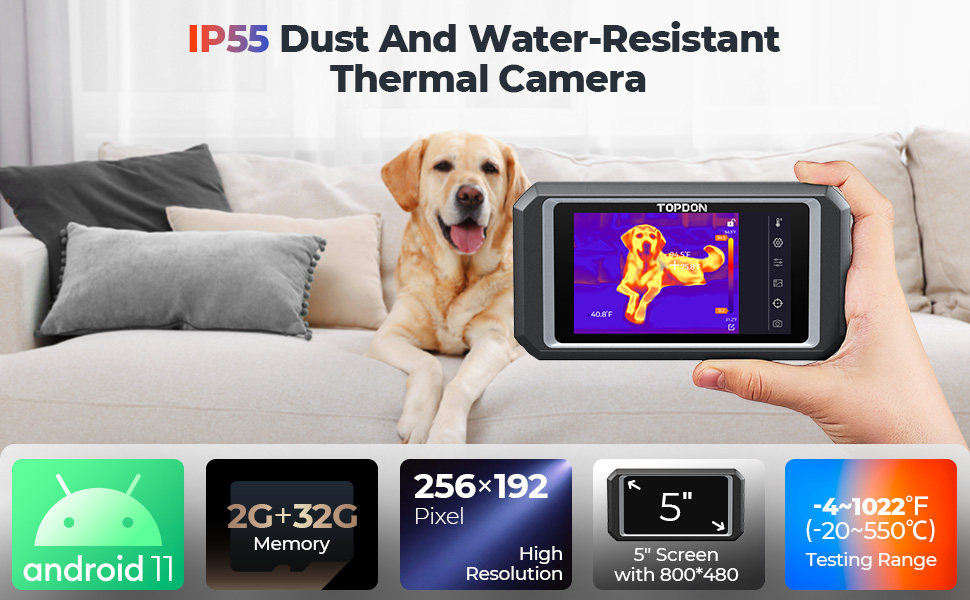 TOPDON TC003 Thermal Camera- See Beyond The Visible

The TC003 is a cutting-edge thermal camera that delivers high-quality imaging, exceptional temperature sensitivity (40mk), and unparalleled accuracy (down to 0.1℃). Whether you're a professional technician, engineer, or DIY enthusiast, the TC003 provides you with the tools you need to visualize temperature differences and locate potential issues.

1. Superior Image Quality with an IR Resolution of 256x192
2. Smooth and fast operation with Android 11.0 operating system
3. 32G+2G Memory to store up to 120,000 thermal images and 45 hours of videos
4. 5" touch screen with 800 x 480 resolution for unmatched clarity and detail
5. OTG function to link with an endoscope and detect narrow areas
6. Expansive testing range from -4℉ to +1022℉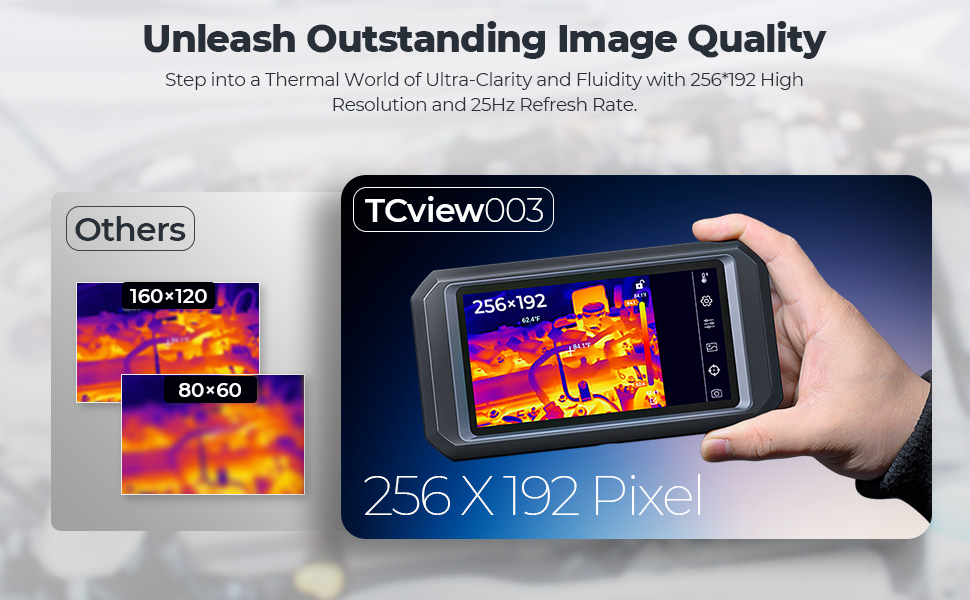 Superior Image Quality with an IR Resolution of 256x192

Experience the top-notch thermal imaging with TOPDON TC003. With an impressive IR resolution of 256x192, our thermal camera offers unparalleled image quality and clarity. It is the perfect tool for detecting and inspecting objects where surface temperature is difficult to distinguish, such as intricate circuit boards and sophisticated electronic devices. The TC003's exceptional detail allows you to identify potential issues quickly and accurately, making it an invaluable addition to your toolkit.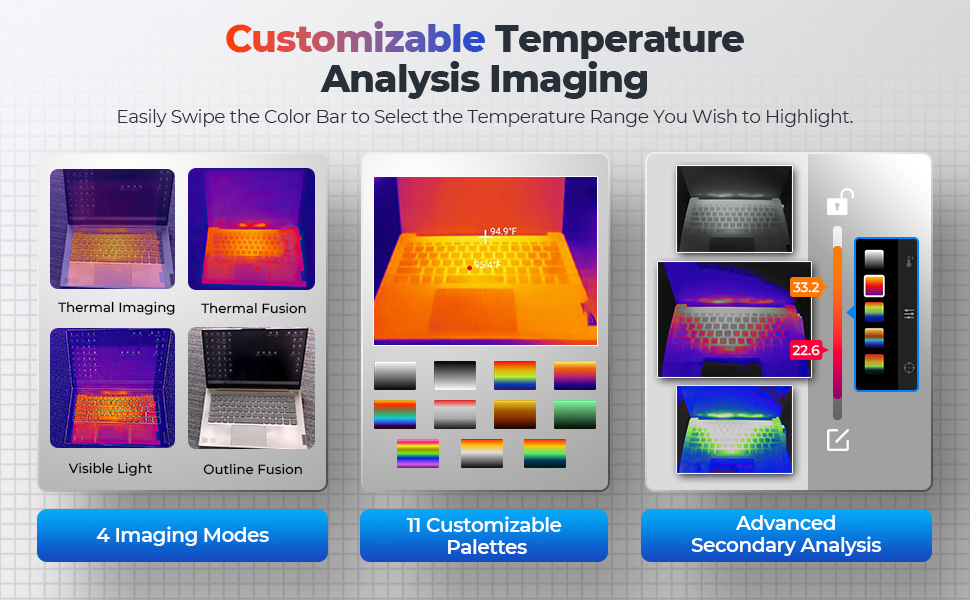 Unlock The Full Potential Of Thermal Images

4 Imaging Modes

The TOPDON TC003 thermal camera is designed with both infrared and visible light dual camera modes, and supports four different imaging modes for thermal analysis: visible light, thermal imaging, thermal fusion (which blends 50% of the visible light image to provide a clearer view of the object), and outline fusion (ideal for objects with surface temperatures that are difficult to distinguish).

11 Customizable Palettes

This versatile tool offers 11 unique color palettes that allow users to customize the temperature display according to their preferences.

Intuitive Color Bar

The intuitive color bar on the TC003 allows users to set upper and lower limits to highlight temperature differences of targeted areas. This feature provides enhanced visibility of temperature differences with a simple swipe of the color bar.

Image Secondary Analysis

The TC003 now supports detailed analysis for saved thermal images in your gallery. With the ability to change the pseudo color for images, easily swipe the color bar to highlight the desired temperature range,read Dot, Line, and Plane temperatures on any pixel for in-depth analysis, you can gain a comprehensive understanding of thermal data.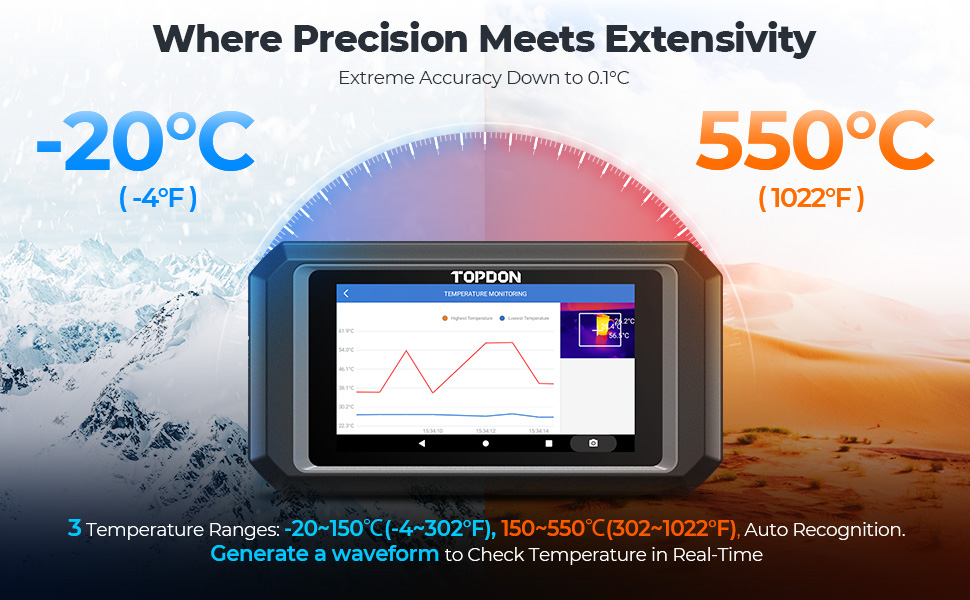 Get Accurate Temperature Readings Across a Wide Range

Dot, Line, Plane and Full Camera

The TOPDON TC003 thermal camera has 4 temperature detecting modes that allow you to take readings in a dot format, a line, a square plane, or analyze the full camera image. You can select up to 3 areas for each mode to read temperatures in multiple areas at once.

Optimized Testing Range

The TOPDON TC003 thermal camera has a testing range from -4℉ to +1022℉, with 3 reading ranges to choose from. The TC003 can detect temperature with an error rate of ±2℃ or 2% of the maximum temperature and measure temperatures with an accuracy of up to 0.1℃.

Monitor Temperature Change by Waveform Graph

The TOPDON thermal camera can continuously measure temperature in dot, line, or plane format and store the data in the app. This data can provide you with high and low temperature readings over time, which can be used to generate a waveform graph.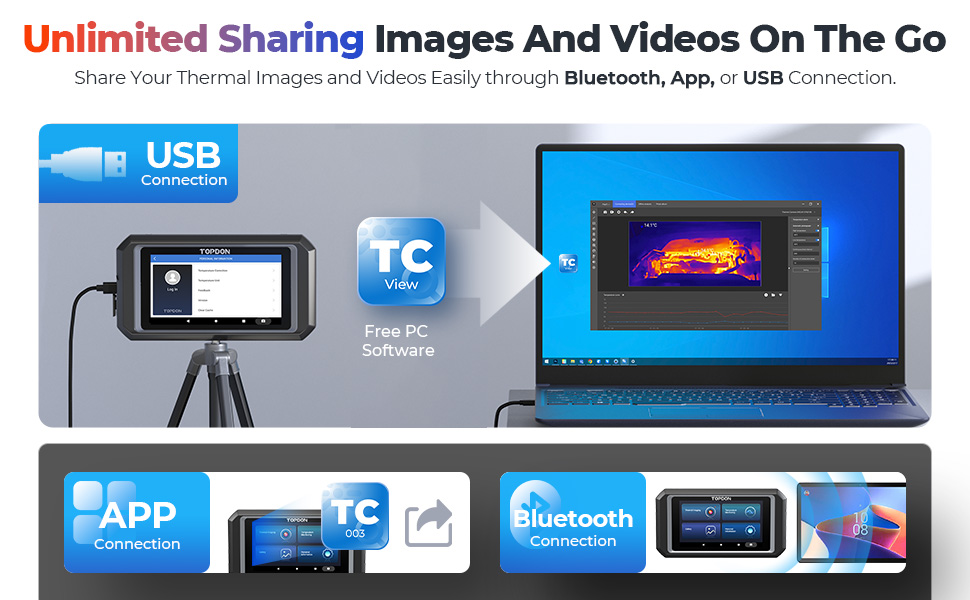 No Boundaries for Your Thermal Content
With its easy-to-use interface, simply connect it to your Windows Laptop via the included cable, or share your images to your smartphone via Bluetooth.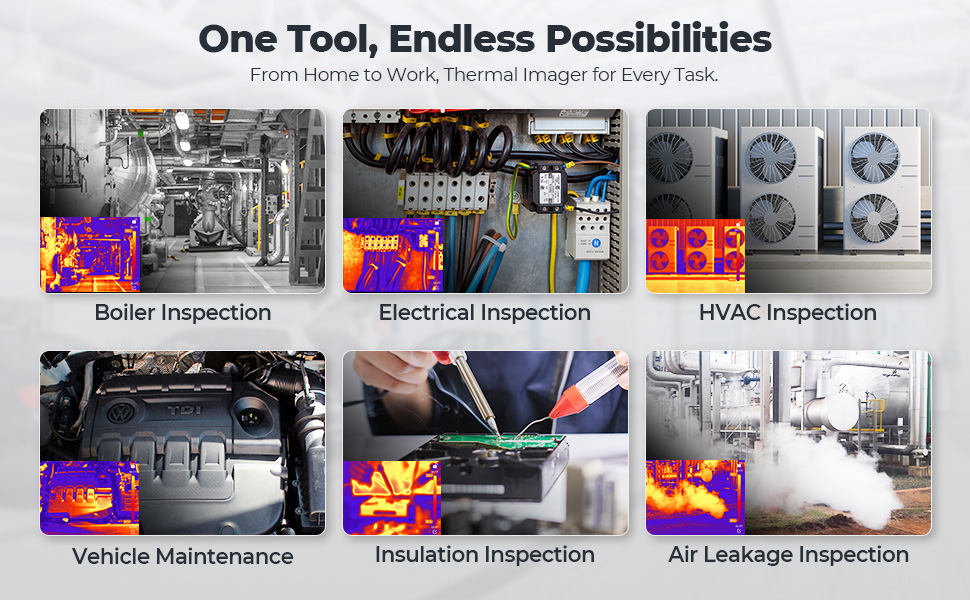 The TC003 also features a screw hole (1/4-20 unc), enabling it to be mounted on a tripod for stable, long-term viewing. With a working time of up to 4 hours, you can capture thermal content for extended periods of time without worrying about recharging.

See More Than The Human Eye
This versatile thermal imager is specifically designed to streamline maintenance tasks and enhance productivity.

Whether you're a professional automotive repair technician, HVAC system specialist, or crop protection expert, this thermal imager is the perfect tool for your needs. It can help you quickly identify potential issues, track down sources of energy loss, and optimize equipment performance.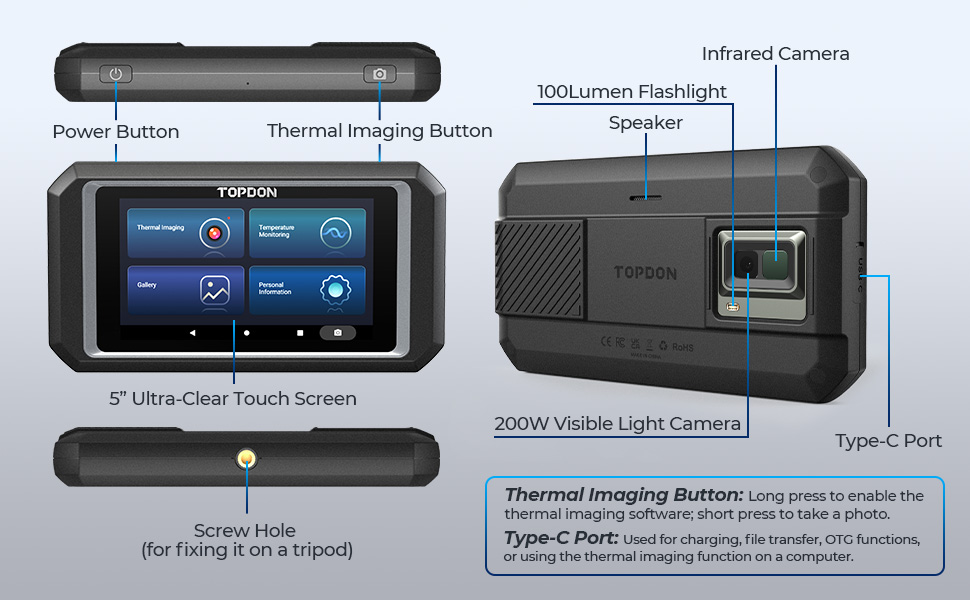 Authorization
Reviews