---
Comprehensive Battery Library at Your Fingertips
Effortlessly Share and Save Test Reports
Bluetooth Testing For More Powerful Analysis
Unparalleled User Experience
---
---
Regular price
Save -Liquid error (snippets/product-price line 49): Computation results in '-Infinity'%
£54.99
---
---
Trusted Delivery
Print
---
Share
Description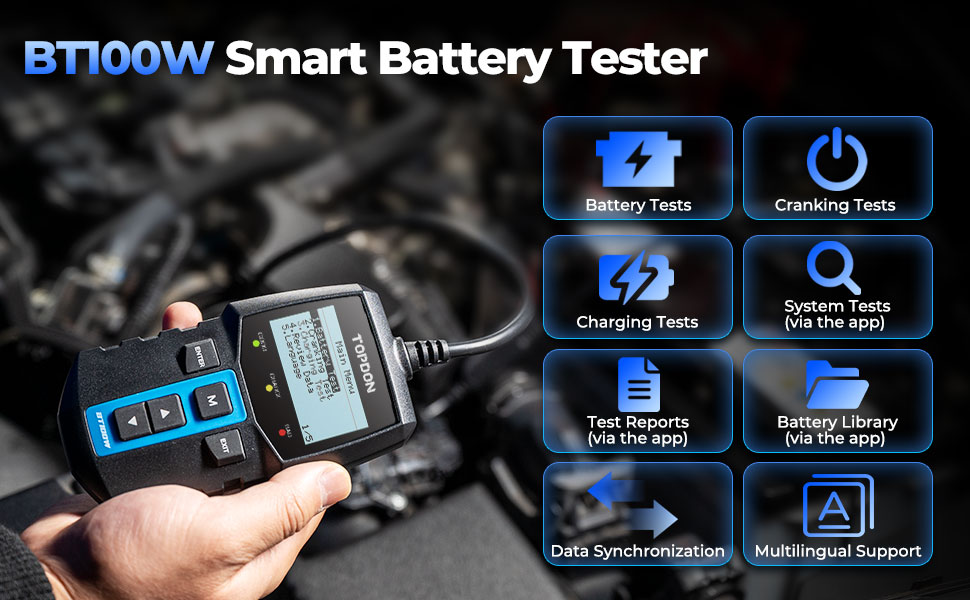 TOPDON BT100W Smart Battery Tester
TOPDON BT100W is a versatile, portable battery tester that offers the convenience of a plug-and-play device and the precision of a high-tech digital tester. It can be used as a standalone tester for various tests, such as battery, charging, and cranking. The accompanying app provides advanced features, including system tests, enhanced data analysis, and the ability to view and save test reports. The versatility of the BT100W even extends into multi-language operating systems. Users can select from eight languages to run the BT100W device and nine languages from the BT100W app. The TOPDON BT100W is a safe and efficient 12V battery load tester, it only turns on when it's properly connected to the battery, this is thanks to the safe passive testing approach that it uses. This means you can test multiple car batteries without having to charge the device between tests, making it a time-saving and convenient tool for mechanics and technicians.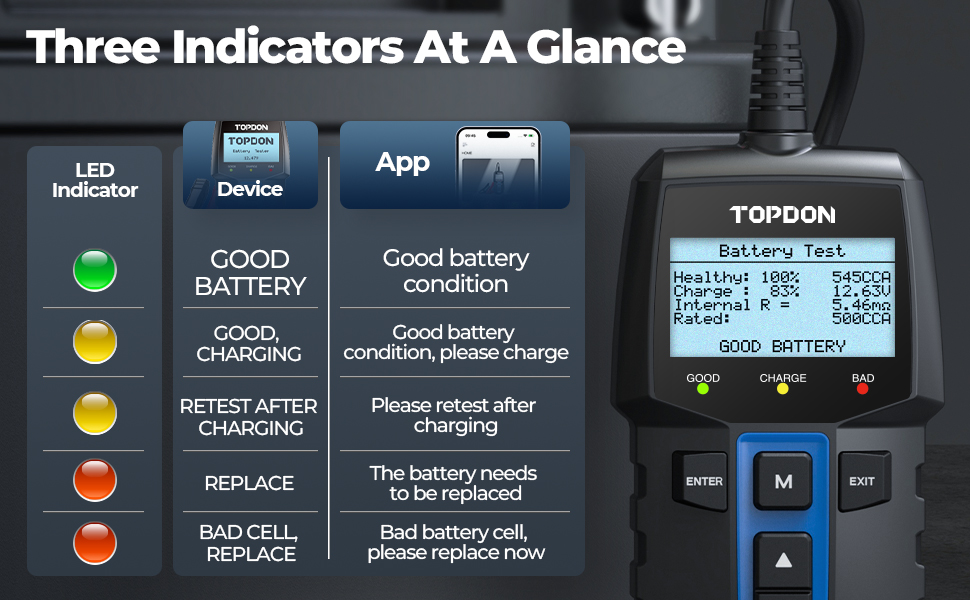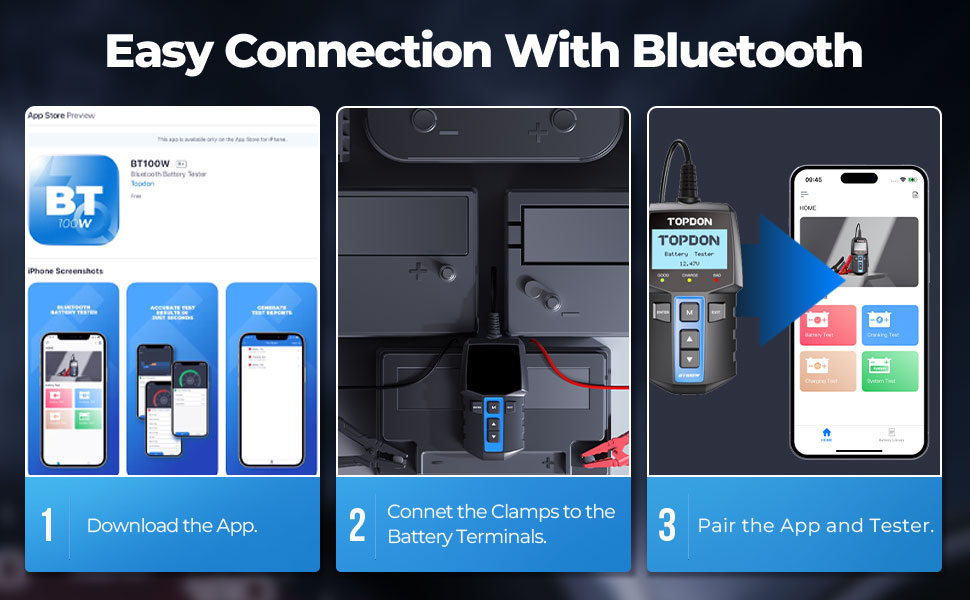 To use the TOPDON BT100W car battery automotive tester follow these steps
1. Download and install the BT100W app on your mobile phone by searching for it in the App Store or Google Play.

2. Connect the device to your battery by attaching the red terminal to the positive pole and the black terminal to the negative pole.

3. Open the app and tap the Bluetooth icon on the upper right corner to search and connect to the BT100W device.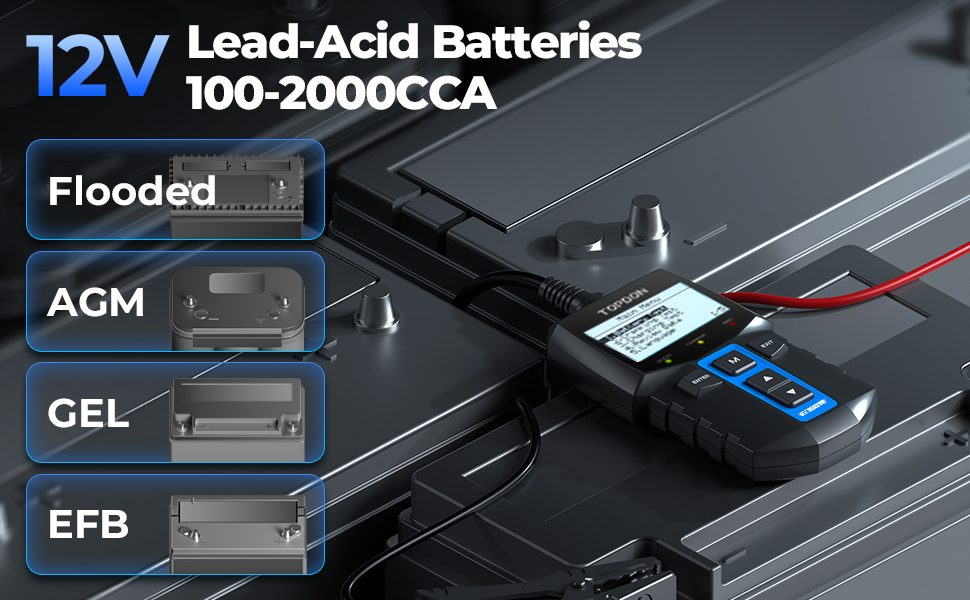 Wide Applications Scenarios
The TOPDON BT100W car battery diagnostic tester is a versatile tool that can handle a wide range of battery types and applications. It is compatible with 12V 100-2000 CCA batteries, including regular flooded, AGM flat plate, AGM spiral, and GEL batteries. It's suitable for a broad array of vehicles, such as cars, trucks, marine boats, motorcycles, and more. This tester is perfect for car owners, DIY mechanics, truckers, professional technicians, and automotive businesses.



10 Meters of 5.0 Bluetooth Transmission
The device can be paired with Bluetooth-enabled devices (iOS 10.0 or later, and Android 5.0 or later) with a maximum transmission range of 30 feet (10m) without physical obstacles.

99.5% Accuracy in 3 Seconds
The BT100W car battery tester delivers 99.5% accurate results in just 3 seconds, thanks to its high-precision amplifiers that are calibrated by professional instruments.

Multilingual Support
The BT100W 12v battery tester is designed for users from different parts of the world, with 8 languages supported on the device (EN/FR/ES/DE/IT/PT/RU/JP) and 9 languages on the app (CN/EN/FR/ES/DE/IT/PT/RU/JP).



2 Convenient Test Methods
The tester can be used both in-vehicle, without needing to remove the battery and out-of-vehicle for independent battery testing.

Visualization Waveform
The cranking voltage will be displayed in a waveform, including the Cranking voltage and the lowest cranking voltage.

WHAT'S IN THE BOX?
1* BT100W tester

1* User Manual

1* Quick User Guide
Authorization
Reviews