---
Topdon BT100
12V Load Tester
3 Testing Function
Ergonomic Features
---
---
Regular price
Save --2%
£49.99
£49.00
---
---
Trusted Delivery
Print
---
Share
Description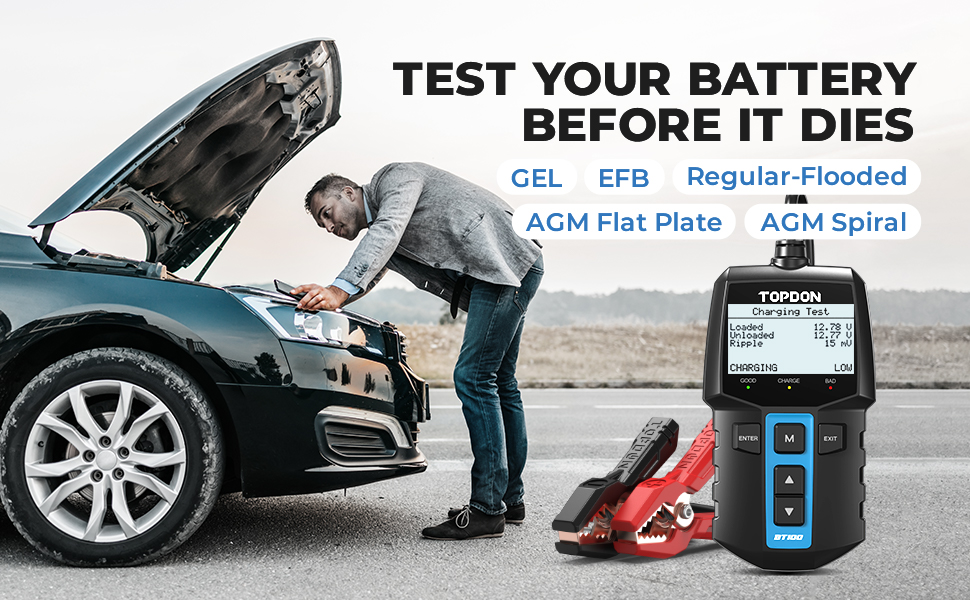 Check Your Battery Before It Dies
A Minor Investment Saves You from Headache

Were you sitting in the car and wondering why you can't start the car? The cause of this may be a flat battery.

Try this 12V car battery tester, so you can:

Avoid failed cold-weather starting, and a roadside breakdown.
Keep a close eye on battery status, and fix potential problems.
Regular battery check to lengthen its lifespan; make sure it works at an optimum level.
Save mechanic costs and many more.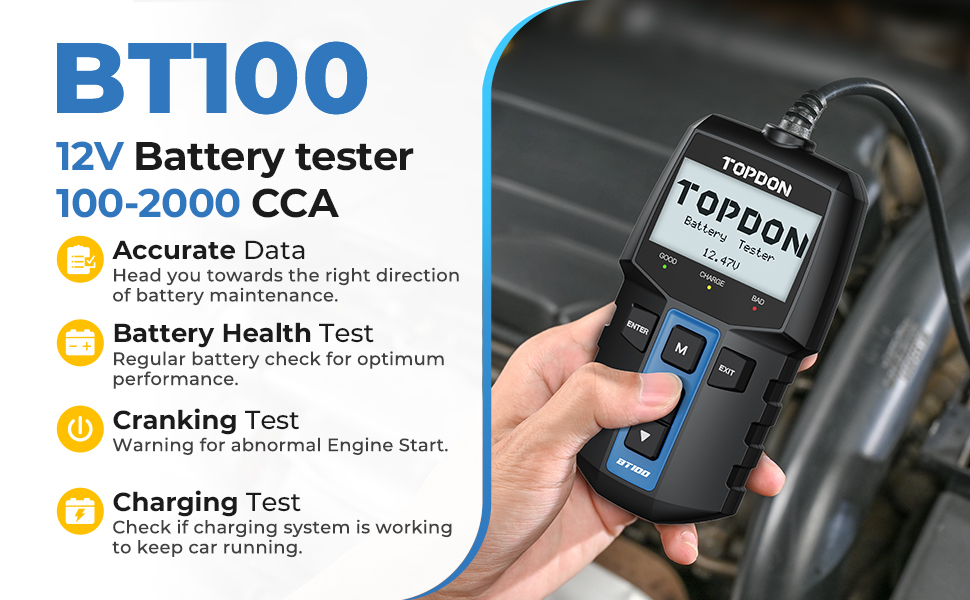 What can TOPDON BT100 do?

Wide Battery Coverage: works for 100 to 2000CCA regular flooded, AGM flat plate, AGM spiral, Gel, and EFB;
Multiple Unit Systems: CCA, BCI, CA, MCA, JIS, DIN, IEC, EN, SAE, and GB.
Battery Health Test Result: SOH (state of health), SOC (state of charge), CCA value, voltage, internal resistance, etc.
Cranking/Starting Test: predict if the battery will fail to crank/start a vehicle.
Charging Test: helps determine if the output voltage of the generator, the rectifier diode, and the charging current is normal.
3-LED Indicators: easy to tell if battery's good (Green), there's a warning (Orange), or there's a serious issue (Red).
Convenient Test: support both in-vehicle and out-of-vehicle test; no need to remove the battery out of vehicle.
Built-In Protection: polarity reverses connection protection with spark proof; no heat generated while operating, or cause battery discharge.
Easy & Quick Operation: show concise suggestions in seconds (Good, Bad, Recharge, Replace), with menu buttons to navigate easily.
Multilingual Menu: English, Russian, Spanish, French, Italian, German.
Note: For load test, please connect the product to your car and ignite the car on.


Cranking Test
If your battery is 4 or more years older, and it does not seem to crank your engine at a normal speed, you probably need a new battery.

This 12V battery tester can show you the cranking voltage, and the cranking time in milliseconds, to help predict if the battery will fail to crank/start the vehicle.

Loaded Voltage means the voltage measured when turning on on-board electrical appliances, such as headlights.

Unloaded Voltage means the voltage measured when turning off all the on-board electrical appliances.


Charging Test
Use this battery load tester to check if the generator provides sufficient power to the vehicle electrical system, and if the battery can hold the charge.

More data are also included: CCA value/rating, voltage, internal resistance, state of health (SOH), and state of charge.

State of health (SoH) is a figure of merit of the condition of a battery (or a cell, or a battery pack), compared to its ideal conditions.


Show Battery Health
This automotive alternator tester will display test results: "GOOD, BAD, REPLACE, or RECHARGE", concise and easy to understand for your quick reference.

GOOD BATTERY: Battery is in good condition, no worries!
GOOD, CHARGING: Good battery but low voltage, charge before using.
REPLACE: Battery almost reaches the end of the using life, please replace it for car running.
BAD CELL, REPLACE: REPLACE: Battery is interior damaged, bad cell or short circuit, replace it.
RETEST AFTER CHARGING: Low voltage, charge and retest to avoid error.

In / Out of Vehicle
This car battery tester has a fast scan time to run a battery system test to check battery overall health, and the status of your alternator and battery.

Stay Safe Always
The risk of causing damage tends towards zero when using this load tester.

At the end of the durable cable are larger-sized clamps than the competition for a more secure fit.

Easy Battery Tester
This entry-level auto battery analyzer is made for newbies, with helpful features such as extra-large clamps for a solid connection, intelligent LED status indicators for quick test, and 5 large keypad buttons that make the menu easy to scroll.

**Move off the clamps and wait for 2 minutes to do another test.


2 Test Methods
In Vehicle – no need to remove the battery. You can directly check the vehicle battery under the hood.
Out of Vehicle – can test the independent battery.

Can Work in Hot & Cold
You live in someplace where the weather is harsh? Then you need this durable car battery tester, which can stand the extreme cold and heat (operation temp. range: -4℉~140℉, -20℃~65℃).

6 Languages Support
This BT100 battery tester can be used by people from different parts of the world, as it is multilingual. For users who are not English speakers, they can easily switch the function menu into Russian, Spanish, French, Italian, and German.
Authorization
Reviews