---
NO Fee of Lifetime Software Upgrade
28 Hot Reset Services
All Systems Car Scanner
Wireless & Bluetooth + AUTOVIN + 32G ROM
---
---
Regular price
Save -Liquid error (snippets/product-price line 49): Computation results in '-Infinity'%
£368.99
---
---
Trusted Delivery
Print
---
Share
Description
This TOPDON Bluetooth/Wireless Diagnostic Tool's Philosophy: Easy, Fast and Powerful
- All Available System Diagnostics: This full system diagnostic scanner covers 96 car brands worldwide to diagnose systems as Engine, Transmission, Airbag, ABS, ESP, TPMS, Immobilizer, Gateway, Steering, Radio, Air Conditioning, and more. Retrieve ECU Information; Read/Clear DTCs; Display Live Data Stream.

- 28 Maintenance Services: for most modern cars, and the car brand coverage is still growing in this scan tool.

- Wireless Blue-tooth 4.0 Connection: diagnose from a distance (33ft/10m) without tangled cables with this car scanner.

- VCI Dongle: can be installed into this car full system diagnostic scanner unit for storage convenience.

- One-Touch AutoVIN Technology: automatically identify the vehicle, and match the proper diagnostic software to run fast and precise car diagnostics.

- One-Touch Software Update via Wi-Fi: to cover the most recent car makes and models.

- Feedback Function: for timely online technical assistance.Click "FeedBack" to get quicker reply and get problems solved.

- Repair Info: check car coverage list, training videos, detailed DTCs explanations.

- Graphic Live Data Stream can be merged for easier comparison.

- Free Lifetime Software Update is available for NOW.



This scan tool's menu varies by make, model, and year of gasoline or diesel engine vehicle.

Possibly fail to run one specific system's diagnostics with this diagnostic scanner if the vehicle does NOT have that ECU system module installed.

To check if this scan tool has the function you need, reach us 24/7 with VIN information.

Some maintenance services like Oil Reset, IMMO Service, ABS Bleeding, DPF Regeneration, etc., may NOT be available for some vehicle models.

Notice: Please use WiFi for first use and activation. Please update to the latest version.
28 maintenance service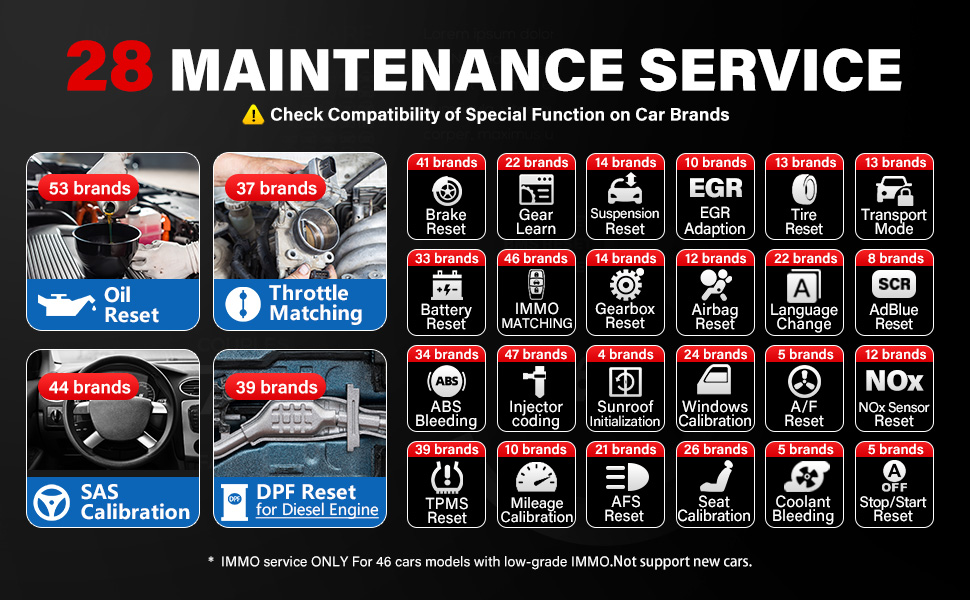 TOPDON Professional Diagnostic Scanner for Car that Fits Your Needs - 28 Maintenance Service
1. Oil Light Reset (for 53 brands). 2. Steering Angle Reset (for 44 brands): Reset the steering angle to zero to keep the car running straight.

3. Injector Coding: Write the new injector code into the car system for correct cylinder injection quantity. -For gasoline or diesel 12V vehicle.

4. IMMO Service: Disable any lost keys and add new keys. **ONLY for cars with easy IMMO system. If you need key programming, see T-Ninja1000.

5. DPF Regeneration (for 39 brands)- Only for diesel 12V vehicle. 6. EGR Adaption: Learn the Exhaust Gas Recirculation valve after being cleaned.

7. ABS Bleeding (for 34 brands): Help exhaust the air. 8. AdBlue Reset: Reset urea after the diesel exhaust treatment fluid is replaced or filled up. - Only for diesel 12V vehicle. 9. Throttle Matching (for 37 brands): Initialize the throttle actuators to the default state. 10. TPMS Reset: Reset the tire pressure. 11. EPB Reset (for 41 brands): Help replace and reset the brake pad. 12. Tire Reset 13. AFS Headlamp Reset: Initialize the adaptive headlamp system. 14. Sunroof Initialization: Initialize the sunroof when locked off or closed.

15. Battery Reset (for 33 brands): Register the battery after replacement. 16. Seat Calibration: Calibrate the memory in replaced or repaired seats.

17. Airbag Reset: Resets the airbag data to clear the airbag collision fault indicator. 18. A/F Reset: Set or learn Air/Fuel ratio parameters.

19. Gearbox Reset: Help complete the gearbox self-learning to improve gear shifting quality. 20. Transport Mode: Deactivate the transport mode.

21. Windows Calibration: Perform door window matching to recover ECU initial memory. 22. Language Change: Change vehicle system language.

23. Suspension Reset: Adjust the vehicle body height sensor for level calibration. 24. Mileage Calibration: Copy or write the kilometer value.

25. NOx Sensor Reset: Reset catalytic converter learned value stored in ECU. 26. Stop/Start Reset: Set up the automatic start-stop function in ECU.

27. Coolant Bleeding: Activate the electronic water pump. 28. Suspension Reset: Adjust the vehicle body height sensor for level calibration.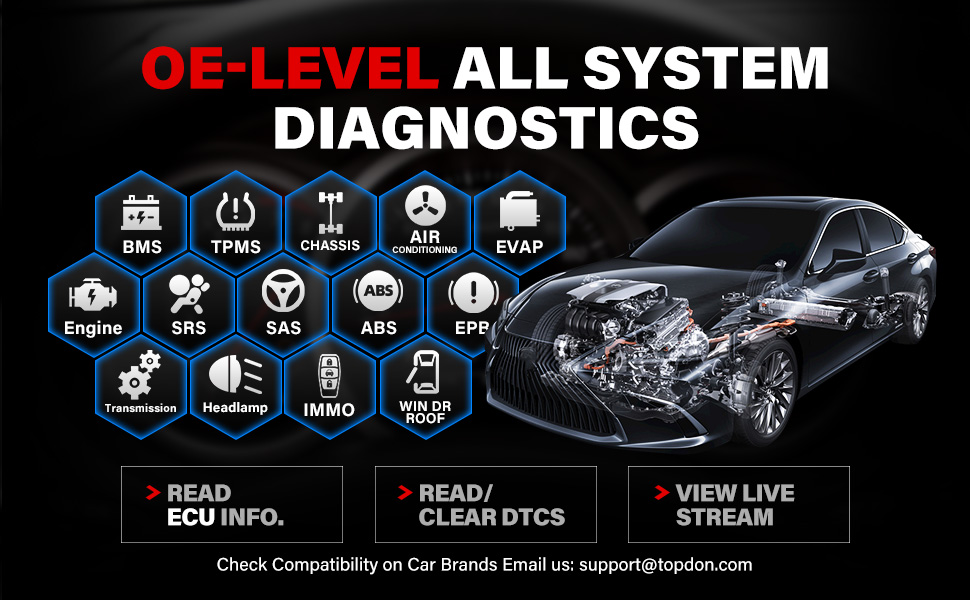 A Diagnostic Tool with All Vehicle Modules Scan
You don't need to buy a separate diagnostic tool to scan all available ECU modules of the tested vehicle. This car obd2 scanner can pinpoint the exact issue source from Engine, gearbox, ABS, SRS, EPB, Immobilizer, IC, DSC, HVAC, etc.:

- Cover 96 car brands across the globe.
- Read their ECU version numbers of the tested control units.
- Read & erase DTCs to locate trouble areas and clear the codes.
- View Live Data of each parameter item.

So you can enhance performance, save energy, reduce emissions and more as following:

For Engine: detect common issues as Poor lubrication, Failing oil pump, Oil deposits and debris, Inadequate fuel and air compression, Leaking engine coolant, Blocked engine radiators, Prolonged engine detonation, Damaged oxygen sensors, Aged spark plugs, etc.

For SRS: pinpoint the trouble area as: a bad seat belt, a corroded crash sensor, or some water intrusion in a connector, etc.

For ABS: diagnose Blown sensor fuse, Low brake fluids, and Faulty sensor, etc.

For Transmission: avoid Grinding or shaking sensation in gear, Whining, humming or clunking noises, Burning smells, Gears Slipping, Low or Leaking Transmission Fluid, etc.

For TPMS: verify problems of Low tire pressure, Faulty in tire pressure monitor control module, Unknown tire sensor, Failure to identify tire sensor, etc.

And do everything else.

Stay Up to Date for Free
This scan tool comes with FREE lifetime update, to keep diagnostic software updates and coverage additions being constant with no extra charge. This will save you a lot for the updates usually would cost over hundred bucks a year.

AutoVin & AutoScan
This OBD2 scanner uses AutoVIN technology, to provide quick and accurate car identification in one touch, without the manual input of vehicle make, model, and year data. After that, this scan tool will lead to diagnostics where you can choose the systems to scan.

*NOT for all cars. If failed, navigate through menus to go manual diagnostics.

Read ECU Information
This diagnostic tool features ECU information, to read and display the specific information of the tested electronic control unit (ECU), as unit type, version numbers and other specifications, offering useful reference for repair work.



ABS Bleeding
This scan tool can help you bleed the trapped air out of the ABS module, saving time, money and stress in dealerships, or repair shops.

* Still need to bleed the air manually in brake lines after ABS brake bleeding.

* NOT for all cars. If failed, we offer 24/7 for timely reply.

Injector Coding
This diagnostic scanner features injector coding service to help correct the cylinder injection quantity for the optimal emission and smooth running. All you need is to follow the pop-up guidance to write the new injector numbers into ECU module.

* NOT for all cars. If failed, we offer 24/7 for timely reply.

Anti-Theft Matching
Not just a normal OBD2 scanner, this advanced diagnostic tool can also help you disable all lost keys, and add a new key fob for convenience, provided that your car is installed the low level anti-theft system, NOT Audi, Benz, BMW, VW etc., with advanced IMMO systems.

* NOT for all cars. If failed, we offer 24/7 for timely reply.

* Consider our locksmith-level key programmer tool T-Ninja1000 if you need full IMMO functions.
Authorization
Reviews