---
---
---
Regular price
Save -Liquid error (snippets/product-price line 49): Computation results in '-Infinity'%
£137.99
---
---
Trusted Delivery
Print
---
Share
Description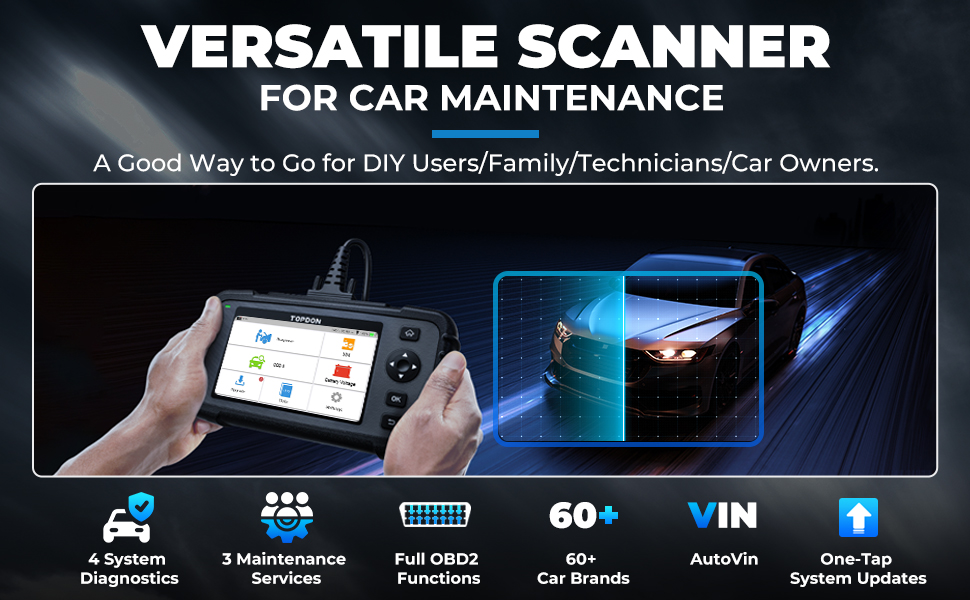 Get a real pro-quality automotive diagnostic scan tool that has everything you expect:


An affordable code scanner with deep detection on Engine, Transmission, ABS, Airbag (SRS) systems for 60 car brands across the globe. (compatible with America: GM, Ford, Chrysler; Europe: VW, Benz, BMW, Fiat; Asia: Toyota, Honda, Nissan, Hyundai / Kia)
Oil/SAS/Throttle Reset -New 3 reset functions are available! TOPDON ArtiDiag500 obd2 scanner with Oil /SAS/Throttle Reset to maintain your vehicle systems safely. Just Click "Upgrade" to obtain 3 special reset functions.
4 systems diagnostic tool: access to ECU information, read & erase fault generic / manufacturer-specific codes, turns off warning lights, and display live datastream in merged graphic.
An Code Reader TOPDON ArtiDiag500 with all 10 test modes works on most OBDii / CAN cars made from 1996 and forward.
One-touch AutoVIN Technology: automatically identify make, model, and year; quickly match the proper diagnostic software.
Battery Voltage Monitor: check vehicle battery voltage status in real time.
Automatically generate Diagnostic Report; share via Email.
History Function: run the previous diagnostic procedure, not to start from scratch.
5" touchable LCD with easy-to-read clarity; combined with button navigation.
Quick to learn and easy to use: Android 7.0 system; logically well-laid interface; DTC LookUp Library.
Free lifetime one-touch software update via Wi-Fi; Feedback function for timely online technical assistance.
Multilingual support: English, French, German, Spanish, Italian, Russian, Portuguese, Japanese, and Korean.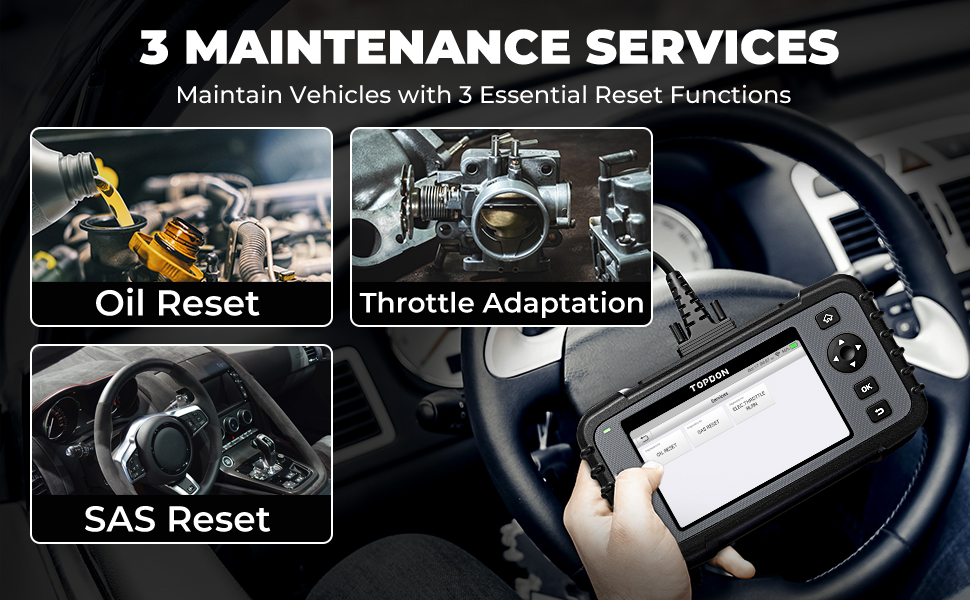 3 Maintenance Services Make for Easy Diagnostics and Maintenance
You can get your daily diagnostic maintenance done with the OBD2 scanner ArtiDiag500's 3 reset functions:


Oil Reset: Reset an engine oil tracking system once the oil has been changed.
Throttle Adaptation: Initialize the throttle actuators to the default state.
SAS Reset: Reset the steering angle to zero to keep the car running straight.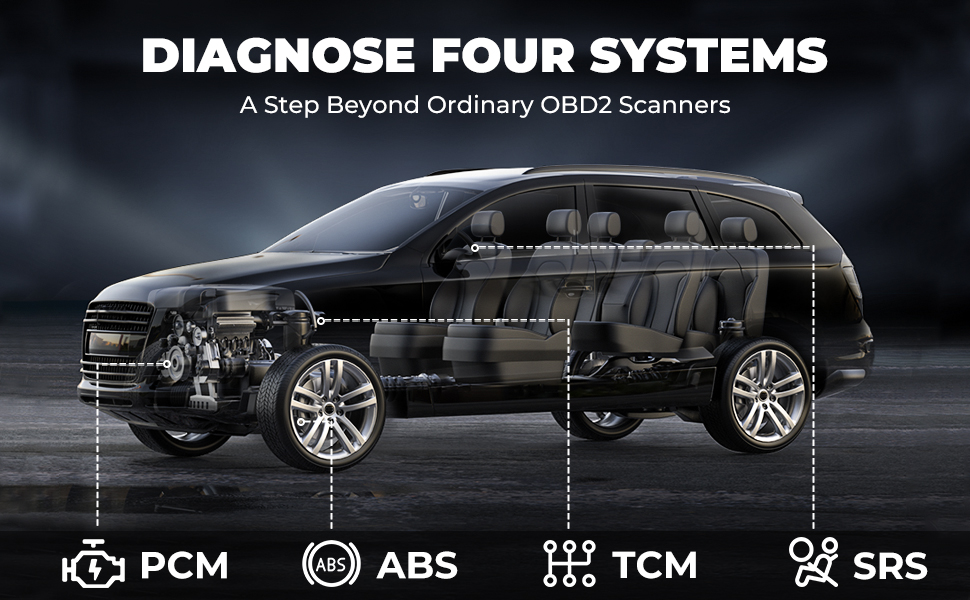 4 in 1 Car Diagnostic Scanner
1. For Engine System Diagnostics: To extend the life of vehicles and save energy, use this OBD2 scanner tool to:


Quickly read / erase current, permanent, and pending codes in the Engine system;
Show real-time change of critical data, related with fuel and manufacturer-specific parameters;
Turn off the Check Engine Light on dashboard.
2. For Antilock Braking System Diagnostics: To have safe driving before putting anyone in danger because of brake locking or skidding, use diagnostic scanner TOPDON ArtiDiag500 professional automotive scanner to easily locate the brake pads issues:


Read / clear error codes in the ABS system, and turn off the ABS warning light.
Monitor and playback the real-time data of all brake components in graphic, including the speed of each wheel, ESP sensors data, Brake assist data, and CAN signals data.
This diagnostic tool can help prevent the ABS system failure like Blown sensor fuse, Low brake fluids, and Faulty sensor.

3. For Airbag System Diagnostics: Unlike other systems, you won't always tell if the airbags are working properly while driving. This SRS check engine code reader can make sure all safety systems are functional before a tragedy happens:


Access Supplemental Restraint System, to diagnose trouble codes, and pinpoint the faulty part.
With built-in DTC definition library's help to solve the issue; clear codes; turn off the SRS warning light.

Revealing the trouble area such as a defective seat belt, a corroded crash sensor, or some water intrusion in a connector, this obd2 code reader helps you solve security risks.

4. For Transmission Diagnostics: This TOPDON scan tool makes sure your vehicle's transmission system (manual or automatic) collaboratively works with the Engine to power the wheels, matching the vehicle's speed and load for safe driving.


Pull / clear diagnostic codes from the transmission system.
Display live data from the transmission system to detect whether the car's speed and load match its transmission's output.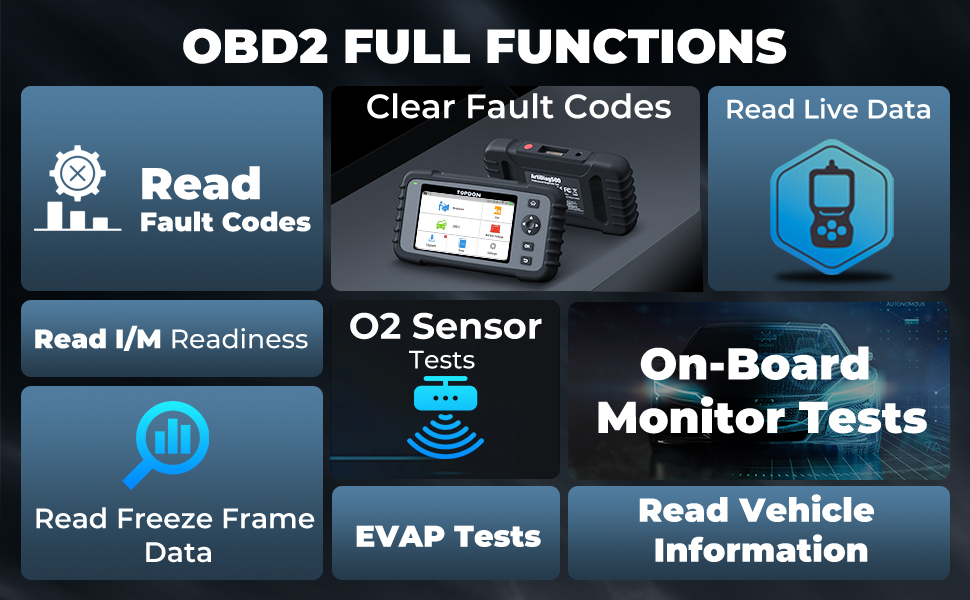 All Modes OBD2 Scanner for 1996 & Newer Modern Cars Worldwide
Read & clear fault codes stored in Engine Control Unit.
Turn off annoying Check Engine Light after servicing and repairing.
View dynamic Live Data to focus on any suspicious data; able to store and playback.
Display I/M Readiness status to identify if the vehicle finishes the self-test.
Show Freeze Frame data when a fault code is detected.
O2 Sensor Test to check fuel efficiency.
EVAP Test for fuel tank system (carbon canister test).
Access to on-board diagnostic monitoring test results to determine if some specific components or the monitors are normal.
Built-in DTC lookup library, read generic (P0, P2, P3, and U0) and manufacturer specific (P1, P3, and U1) codes; show definition.
Retrieve vehicle information (VIN, CID and CVN) for accurate diagnosis.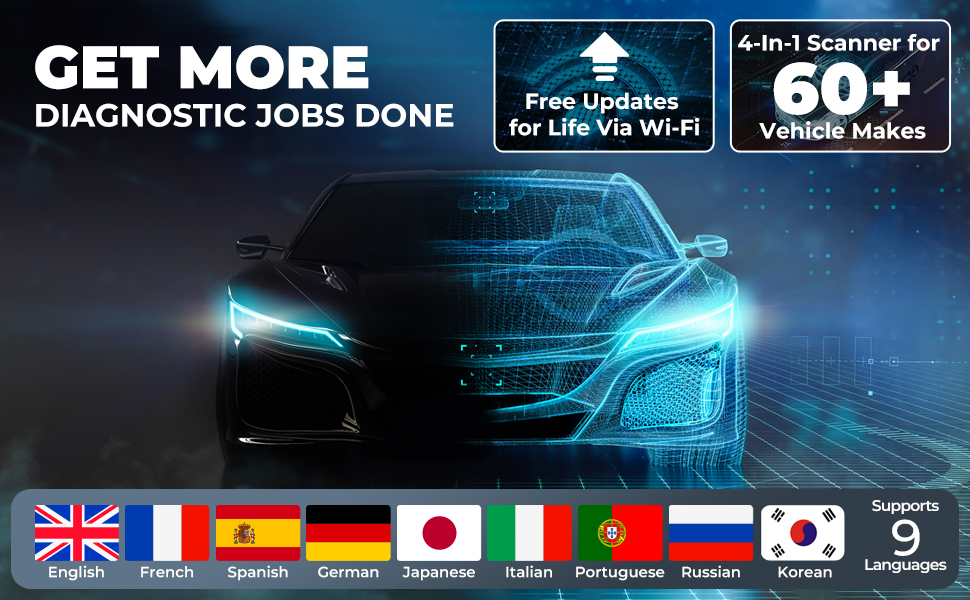 60+ Car Brands Coverage
This is a simple-to-use and feature-packed TOPDON obd2 scanner. It is compatible with a wide range of vehicles:

- For American Cars: Buick, Cadillac, Chevrolet, Dodge, Ford, GM, Chrysler, Jeep, Lincoln.

- For European Cars: Abarth, Alfa Romeo, Audi, BMW, Bugatti, Dacia, Eu Ford, Fiat, Jaguar, Lancia, Mercedes, Mini, Opel, Peugeot, Porsche, Renault, Saab, Seat, Skoda, Smart, Sprinter, LandRover, Citroen, Volvo, VW, Vauxhall.

- For Asian Cars: Acura, Daewoo, Honda, Hyundai, Infiniti, Isuzu, Kia, Lexus, Mazda, Mitsubishi, Nissan, Nissan GT-R, Samsung, Subaru, Suzuki, Toyota, Tlisuzu.

- For South American Cars: GMSA.

- For Australian Cars: Au Ford, Holden.

- For OBD2 Test: most modern cars made in, or after 1996, and newer, which are compatible with KWP2000, ISO9141, J1850 VPW, J1850 PWM, and CAN (Controller Area Network).

8 Languages Support

Easy Steps: go to "Setting" module -> select the language you need -> go to "Upgrade" module -> download & install the car software pack translated in selected language: English, French, German, Spanish, Italian, Russian, Portuguese, Japanese, and Korean.

Free Lifetime Wireless Update via Wi-Fi

This code reader has real-time notifications upon the "Upgrade" icon if newer-version software is released. The functions and car coverage keep growing with no expiration date to save you a fortune in the long run.

** It requires a stable and solid Wi-Fi connection.




In-depth Diagnostic Report
Once the diagnostic procedure is finished, this car scanner will automatically generate a diagnostic report including detailed information such as Car Model, Year, VIN No., Vehicle Software Version, Registration No. and Mileage, with well-explained inspection result for reference.

The report is printable via PC, and can be shared via email.

Timely Diagnostic Feedback
Just submit diagnostic feedback when you have no idea how to fix the problem. This obd2 scanner can reach the cloud server, and contact our technicians to offer you strong technical backup.

** Enter "Data -> Feedback".

Automatic VIN Detection
Performing diagnostic scans doesn't need to be hassle. Once this diagnostic tool is properly connected, it will start AutoVIN automatically to identify the vehicle's make / model / year data, saving manual selections to be fast, and then match the suitable diagnostic software to be accurate.


Real-time Voltage Monitor
Monitoring the battery voltage is surprisingly straightforward in this obd2 scanner.

Thanks to the graphic voltage stream, you can effortlessly check the instantaneous voltage when the car is powered off, and view the charging voltage across the battery when the car is running, making sure the battery is within the normal range.


DTC Lookup Library
A decent car diagnostic tool will accurately pull the error codes, and then also tells you what the problem is, so you don't have to go looking the code up in a list or database. This is exactly the way this scan tool ArtiDiag500 acts.

You can also manually input the specific code for a detailed definition.


Graphic Live Datastream
This obd2 scanner TOPDON ArtiDiag500 display the selected dynamic Engine / Transmission / SRS / ABS data in 3 modes available:

a. Numbers and lists (default);

b. Wave patterns;

c. Merged graph (max 4 data can be merged).
Authorization
Reviews