---
Topdon T-nijia1000 Key Programming Tool
Huge Online Database
Wide Vehicle Coverage
No Risk Guarantee
---
---
Regular price
Save -18%
£408.99
£499.00
---
---
Trusted Delivery
Print
---
Share
Description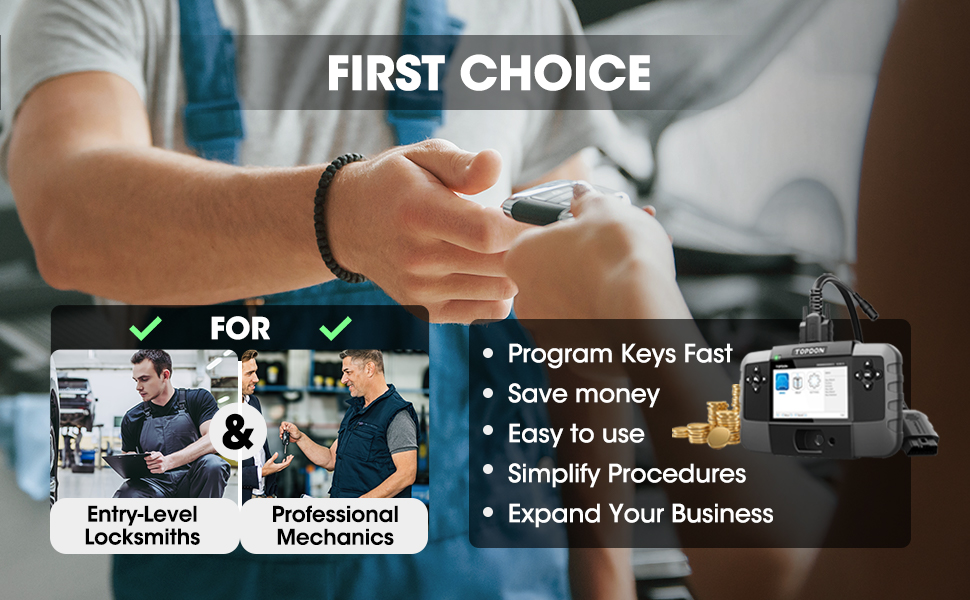 Top Advantages of TOPDON T-Ninja1000

Key programmer tool T-Ninja1000 is developed with the growth of automotive key programming market, due to the fact that there are about 4.5-5 million auto repair stores, and 150-200 thousands of registered locksmiths serving in the US auto aftermarket according to the statistics:

Meet the economic crisis, and paid for itself in just one use;

Support most vehicles in North America, Asia and some Europe brands;
Practical and money-making functions: Read Pin Code, All Keys Lost, Add and Erase Keys and more;
Step-by-step guidance through a series of functions;
Read Pin Code for most vehicles;
Regular update for more futures and supported vehicles;
All by OBD, no soldering, no EEPROM;
No tokens needed. Unlimited uses;
No battery issue. Plug and program keys;
User-friendly design: integrated RFID induction slot, easy-to-store carrying box etc.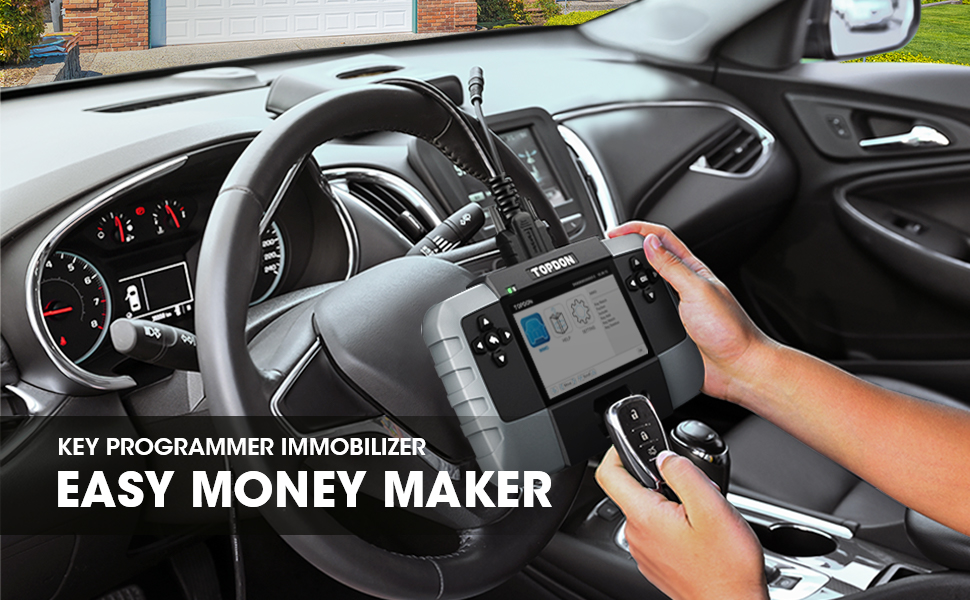 Easy Money Maker
This key programmer tool is specially designed to cover most-commonly used locksmith functions for highly reliable, timely, and affordable services:


Competitive value with features that rivals some advanced locksmith tools;

1-Year Update Service without cost for counting features and vehicles covered;

Only 249 dollars subscription fee a year after the expiration.
It is a great investment that has undoubtedly paid for itself in just one use. It will give you the opportunity to simplify and expand your business, and to bring in new business with the help of our expertise and information.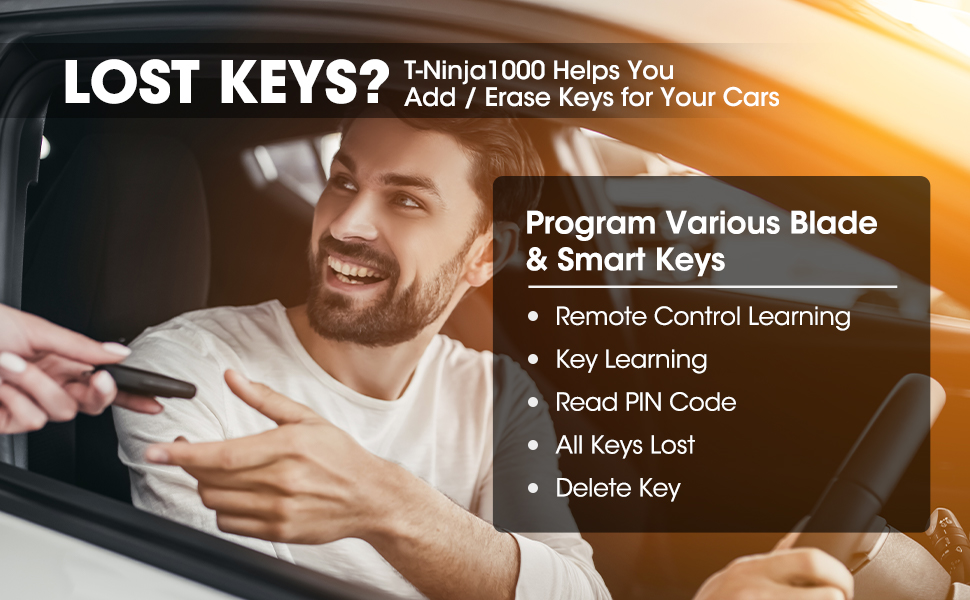 Key Programmer Immobilizer T-Ninja1000 Helps You Add/Erase Keys for Your car
As a low-cost key programming tool for various vehicles, TOPDON T-Ninja1000 can help entry-level locksmith complete the key programming procedures fast with on-screen instructions. To program new keys / the remote control, add / delete keys, disable the lost keys, etc., you can use this automotive key programming tool via the following functions:

Key Learning: Add new Blade or Smart car keys for your vehicles;

Remote Control Learning: Generate new car remote control or your vehicles;

Delete Key: Delete lost keys to protect the vehicle from being stolen;

All Key Lost: Even if you lose all your keys, it can also program new ones for your vehicles;

Read Pin Code: It can read PIN code and get permission to program the key;

Note: The functions list displayed may vary for different vehicles being tested.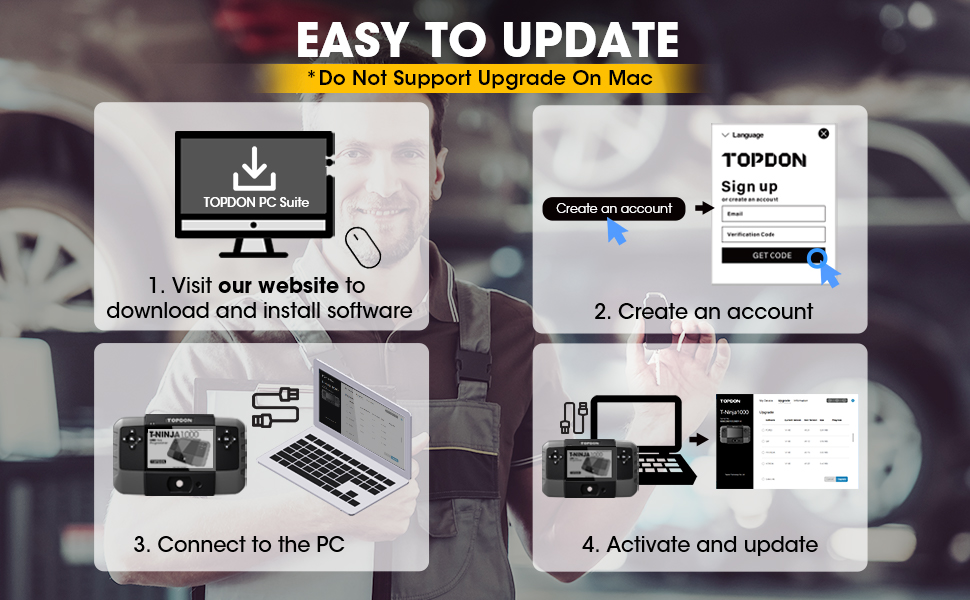 Activation and Update
1. Visit TOPDON official website, go to Key Programming Tool section. Select "Support" and click "Download". Download and install the TOPDON PC Suite software package into your Windows computer.

2. Select "create an account", input the email address, click "Get Code" to obtain the verification code from the email, and input the code. After that, set your login password.

3. Connect T-Ninja1000 to the PC via the USB cable. Sign in the TOPDON PC Suite with the account you created.

4. TOPDON PC Suite will automatically detect the registration status. Click "Register now" to activate the device. After the registration, the My Device page will list all the devices and show their related information under your account.

5. Enter the Upgrade menu, and select the software you need to update. Please ensure a steady USB commutation while upgrading.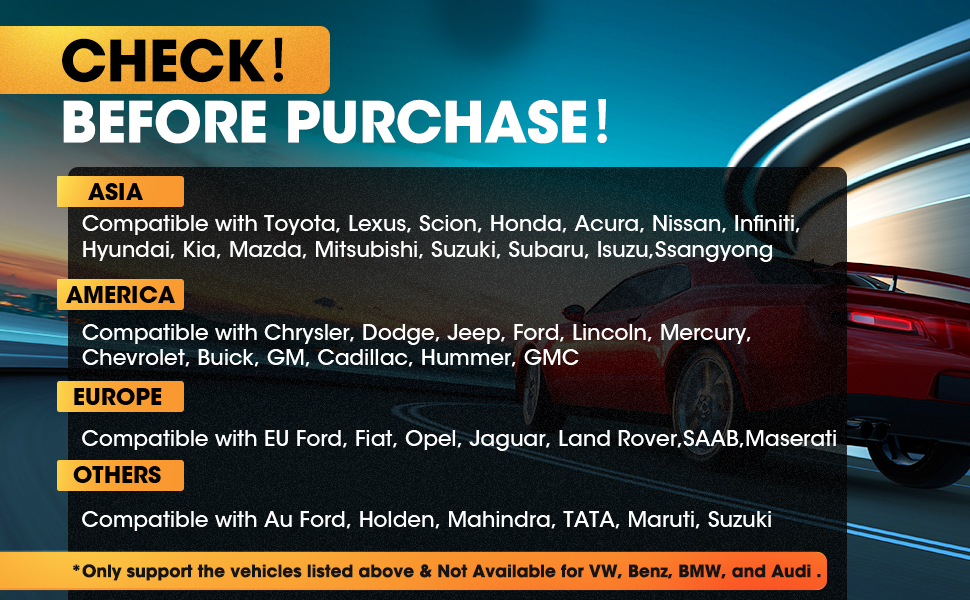 Over 60% Vehicle Coverage
The results show that Auto Car Key Programmer Immobilizer T-Ninja1000 has covered all major car brands in the U.S. as Ford (Lincoln, Mercury, etc.), GM (Buick, Cadillac, Chevrolet, GMC, etc.), Chrysler (Chrysler, Dodge, Jeep) and some Asian brands, after several months of field testing by our technicians in North America, being much better than many competitors in the industry:

- Asia:

Compatible with Toyota, Lexus, Scion, Honda, Acura, Nissan, Infiniti, Hyundai, Kia, Mazda, Mitsubishi, Suzuki, Subaru, Isuzu, Ssangyong

- America:

Compatible with Chrysler, Dodge, Jeep, Ford, Lincoln, Mercury, Chevrolet, Buick, GM, Cadillac, Hummer, GMC

- Europe:

Compatible with EU Ford, Fiat, Opel, Jaguar, Land Rover, SAAB, Maserati

- Others:

Compatible with Au Ford, Holden, Mahindra, TATA, Maruti, Suzuki

And counting.

*For vehicle comparability check, visit the TOPDON T-Ninja1000 official site for details.



All by OBD
The key programmer T-Ninja1000 can get quick access to the vehicle's ECU and get the data you need to program the key via the OBD connection. All processes of key programming are completed by OBD. No need batteries. No need to solder and remove the ECU or the IMMO box of the car.

Easy to Use Guided Interface
Skip the frustration of learning a new tool, T-Ninja1000 features Guided Tips & Hints to help you enjoy simple step-by-step procedures at your fingertips.

It provides advice and suggestions for carrying out all the programming procedures in a more streamlined way.

Also, the user interface is intuitive in plain English.

User-Friendly Design
- We have designed large storage space, so as to store all kinds of keys, chips, parts, and necessary tools you need.

- After the operation, you can directly put the tool back into the carry box with no need of detaching the OBD main cable, thanks to the pre-reserved space, being super convenient to save time and effort.



A Great Investment
Unlike other key programming tools, which need to pay per time online for some models, this OBD key programming tool supports unlimited uses and there's no tokens needed. Even if your one-year subscription expires, it can still work well. (Cannot upgrade and get new functions.)

Reliable Manufacturer Support
The manufacturer carries a complete 60-days refund service, 1-year product quality support for defects in materials/ workmanship and lifetime technical support from the date of sale. Ensuring the diagnostic device with quality problems of during normal usage.

Check the Key Shell and Chip Carefully
This plug-and-go key programming tool with a quick 3 seconds' boot-up time allows you to effortlessly run through its menu. Please confirm that the purchased key shell and chip can match your car.
Authorization
Reviews