---
ABS/SRS OBD2 Scanner
3 Most Needed Service Functions
Full OBD2 Diagnostics
Work Easier
---
---
Regular price
Save -Liquid error (snippets/product-price line 49): Computation results in '-Infinity'%
£81.99
---
---
Trusted Delivery
Print
---
Share
Description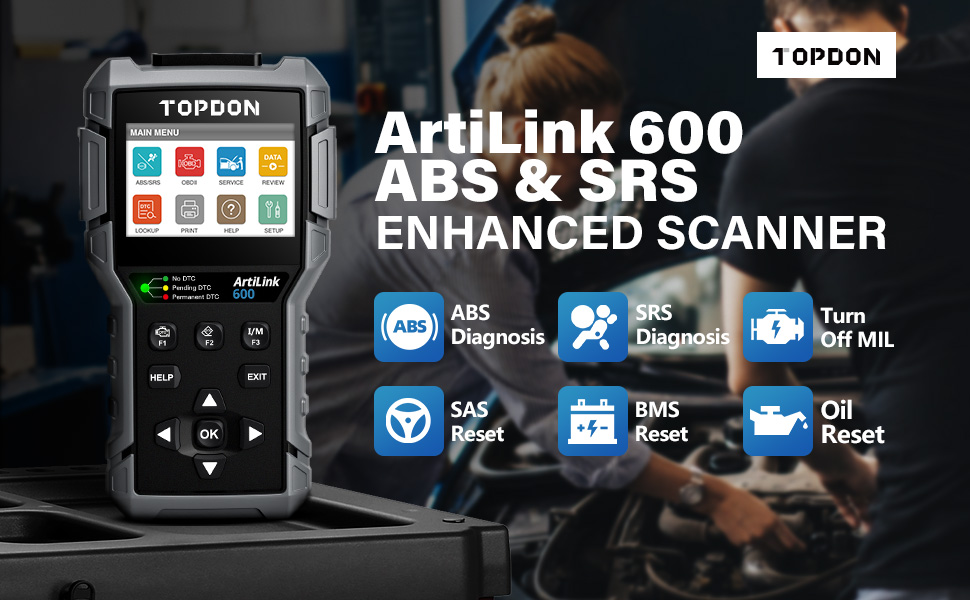 Get a Quality ABS & SRS Diagnostic OBD2 Scanner TOPDON AL600--- Upgraded Ver. of AL400/ AL500

ABS & SRS System Diagnostic Scanner for 42 car brands worldwide: access to ECU Information; Read & Clear DTCs; Live Data Stream; Active Test.
A code reader car diagnostic tool with ABS & SRS Active Test for Fiat, Alpha Romeo, Holden, Saab, US-Ford, GM, Nissan, Mercedes, Benz, Volvo, LandRover, BMW
3 Maintenance Services: Oil Reset for 53 car brands; SAS service for 41 car brands; BMS service for 22 car brands. *The car brand coverage is still growing for this OBD2 scanner.
Fully functioned OBD2 Scanner to solve smog-related OBD2 issues for most modern cars after 1996.
Unlike other OBD2 code readers, Free Lifetime Diagnostic Software Update is available for this scan tool to save costs.
This scan tool can automatically save the Diagnostic Report printable via computer.
Data Record & Replay of Live Data Stream, Freeze Frame for further analysis anytime.
Patented shortcuts for Read / Clear DTCs, HELP Function to save menu selections.
One-Press Quick Smog Test with I/M readiness hotkey.
DTC LookUp Library for detailed Diagnostic Trouble Codes (DTCs) explanations.
Diagnostic cable with LED for clear view in dark area.
3.5" color LCD screen; built-in speaker.
Robust handheld design for more comfortable fit in hand.
** NOTE **
To check if this ABS & SRS OBD2 scanner works for your car, reach us anytime at 24/7 with information (vehicle make, model, and year) included. Possibly fail to run one specific system's diagnostics with this OBD2 scanner if the vehicle does NOT have that ECU system module installed. The maintenance services in this OBD2 scanner may NOT be available for some vehicle models.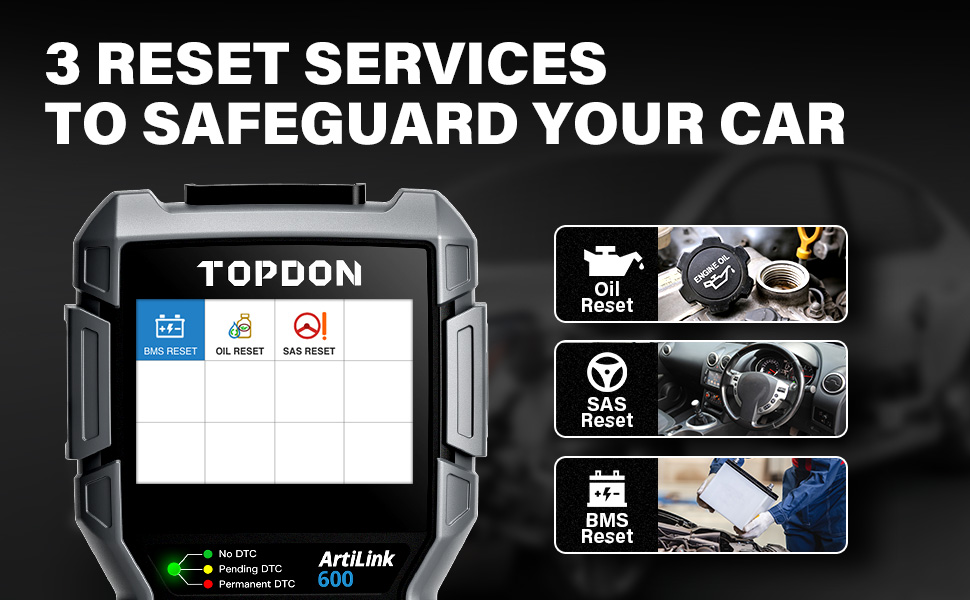 Convenient DIY Oil Change
Whenever the Oil Service light shows on dashboard, check the oil level, replace the pump, and fix the sensor, then use this OBD2 scanner to reset calculation so turn off the light.

Its step-by-step easy procedures will save you the hassle in Auto Services with expensive maintenance.

SAS Reset to Calibrate Steering Wheel Position

When you find traveling NOT in a straight line, check if you need to realign the vehicle's steering column. Our scan tool AL600 will allow you to carry out steering angle sensor calibration (set the SAS angle to zero) on supported car models.

BMS Reset to Clear Faulty Battery Data

When you have replaced the battery, but haven't cleared the old battery's data, some vehicle functions would probably fail to trigger like the automatic start & stop, the sunroof / window open and close at any angel, etc. You need this diagnostic tool to perform a resetting operation on the monitoring unit of your vehicle battery to resume the vehicle functions related.

**NOTE: This ABS code reader's 3 maintenance serves are not universally available for all cars. If failed, 24/7 with information (your vehicle make, model, and year) included for timely support.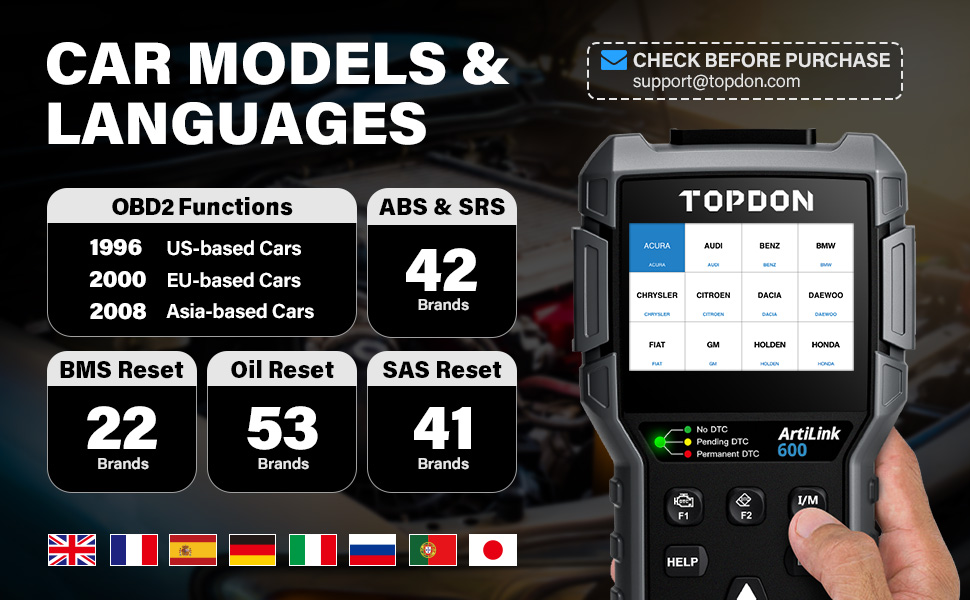 Widespread Modern Car Models Coverage
Make sure this OBD2 scanner actually works on your vehicle. Reach us 24/7 with your vehicle make, model, and year information included to check.

ABS & SRS Systems Diagnostics for 42 car brands worldwide: access to ECU Information; Read & Clear DTCs; Live Data Stream.
ABS & SRS Active Test: for Fiat, Alpha Romeo, Holden, Saab, US-Ford, GM, Nissan, Mercedes, Benz, Volvo, LandRover, and BMW.
3 Reset Services: Oil Reset for 53 car brands; SAS Reset for 41 car brands; BMS Reset for 22 car brands.
Full OBD2 Test: for most vehicles sold in the US, EU or Asia with model year of 1996 or newer, which are compatible with OBDII protocols: KWP2000, ISO9141, J1850 VPW, J1850 PWM and CAN (Controller Area Network);
**NOTE: the car brand coverage is still constantly growing.

Multilingual Menu: English, French, German, Spanish, Portuguese, Russian, Japanese, Italian.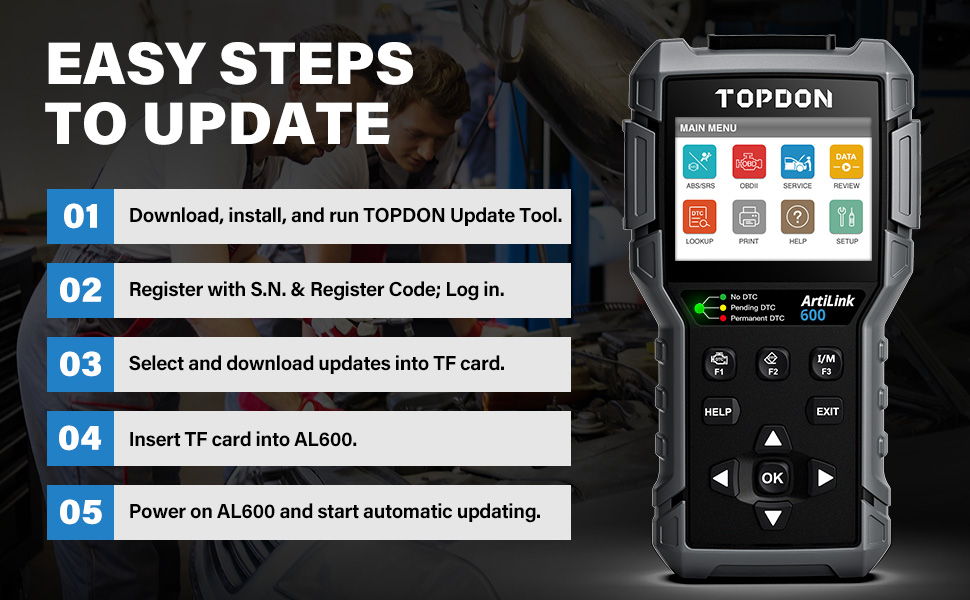 Detailed Steps for Successful Software Update
Go to TOPDON official site to download, decompress and install TOPDON Update Tool on Windows XP, 7, 8 & 10.
Connect this scan tool to the computer via the USB cable. Enter "Main Menu -> HELP -> Tool Information" to get the Serial Number and Register Code for later use. Disconnect OBD2 scanner ArtiLink600.
Remove the TF card pre-installed in this obd2 scanner's unit. Insert the supplied adaptor with TF card into the USB port of the computer.
Run the TOPDON Update Tool. Follow the prompts, and input the information required to finish the registration. Click Submit.
Select the updates you need, and download the update package into the TF card.
Insert the TF card with the downloaded update package into this obd2 code reader.
Power up ArtiLink600 via the USB cable. ArtiLink600 will automatically start updating if a newer version is detected in the TF card.




Fully Featured OBD2 Test
This code reader car diagnostic tool is compatible with most 1996 and newer OBD2 & CAN cars, light trucks, SUV's, hybrids, and minivans worldwide, to help you troubleshoot most engine issues: Read / Clear DTCs; Live Data, Freeze Frame, I/M Readiness, O2 Sensor Test, On-Board Monitor Test, EVAP Test, Retrieve Vehicle Information.

Fast Diagnostic Data Analysis
With this SRS OBD2 scanner, you can easily determine the root cause of various trouble codes at a faster rate through the data logging, graphing visualization, and record & replay of diagnostic data. The current diagnosis result can be saved as a detailed report, and sent via email for further analysis.

Read Vehicle VIN Information
This ABS OBD2 scanner can retrieve VIN to help you easily track the previous records of a vehicle. The records show the performance of the vehicle and other important aspects such as mileage. So you can make a more informed choice when purchasing a used car.


Take Users in Mind
Thanks to its compact and robust design, this check engine code reader is easy to handle and use even in greasy workbench, and can be stored in your toolbox with no fuss. 3 shortcut hotkeys offer quick access to commonly used read / clear obd2 DTCs, and I/M readiness test to get effortless smog results.

3-Color Indicators
Another great feature of this OBD2 scanner is the obd2 system status led lights, which either shows Green, Yellow, or Red, letting you know if it is necessary to dig more at the DTC codes. (Green: NO DTCs; Yellow: Pending DTCs; Red: Permanent DTCs).

Lookup DTC Definition
The DTC Lookup library built in this car diagnostic scan tool adds the efficiency for quick analysis. Every code comes with a description to help you understand the problem. And you can enter the specific code, finding out what it actually means.

Authorization
Reviews